Effective Data Science Team Building Essentials for Tech Start-Ups
By CIOAdvisor Apac |
Friday, January 11, 2019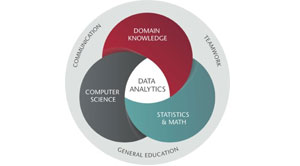 Effective data science programs are challenging to deliver. Organizations fail at the pilot stage despite providing a promising solution. A successful data science program requires four key components such as skills, technology, data, and direction. Start-ups need experienced staff with junior hires to tip the balance perfectly. It is essential for a start-up to maintain long-term vision while working on short-term needs. Therefore, it is crucial to ensure that the talent the company hires is also aligned with the strategy of the company.
Diverse Skill Sets
A team must have members with a variety of skill sets. Data scientists must be proficient in data analytics and machine learning. Additionally, good data scientists also require strong communication skills. Data scientists with these skill sets are rare, and the company must ensure that they aren't used in the wrong role. Data engineers are as vital as data scientists because they ensure that the technology runs when needed. These engineers require excellent development skills and data knowledge as they source data and produce solutions.
Data architects are needed to put an adequate infrastructure in place and make timely decisions. This is a demanding role because data architects need to understand a company's solution. Another invaluable team member is a business analyst. A competent business analyst must have a technical background as they must fully get the functionality of the data science techniques.
Balancing the Team
The team must have a perfect balance of skills and experience. The company must hire freshers with the ability to think through problems. Technical skills are easily taught whereas logic and abstract thinking is more challenging to teach. Candidates with data science degrees may not be all effective because they might know about the technology the company is using, but they might not know how to apply it in a real-world scenario. The best candidates can come from Astrophysics background which requires the skill to look at a problem and describe it in a series of logical statements.
Guidance
Once the right skill set is found, the company must set up an environment that is established on trust and security because good data science requires access to high volumes of real data. Later, the company must invest in training courses as the skills the team learns will be beneficial for the company for many years. The company must focus on building their own training courses to teach specialized skills to the group. Mentoring can also provide direction and motivation to the staff members.
Structure
The structure of the team varies on the size and the setup of the company — the centralized approach where scientists work at the same location results in a collaborative and cohesive effort so that ideas can be shared and the problems can be addressed as a unit. When the company expands and grows too big to maintain at a single location, the company must ensure that managers, scientists, and stakeholders can all interact when needed.