Eliminating Healthcare Challenges with Blockchain
By CIOAdvisor Apac |
Thursday, April 04, 2019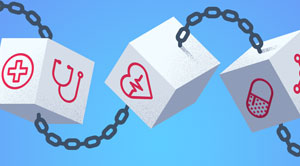 The World Bank and World Health Organization joint report states that despite some progress on Universal Health Coverage (UHC), half of the world's population is still unable to obtain essential health services. The cost of seeing a doctor experience increases considerably every year, preventing many from realizing the advantages of modern medicine. About 100 million people are driven into extreme poverty every year because they have to pay for the health expenses from their own pockets. The healthcare industry has notorious challenges in data protection, fraud, and security.
In the healthcare system, critical health-related information is distributed across various departments. Because of this, the data is not available to doctors at the time of treatment. As blockchain is a distributed ledger technology, no central authority owns the data; so, doctors can access the data without any hassles. Also, it will give more power to people as they can manage their personal health data without any intervention from the third party. As the multiple organizations are eliminated with blockchain adaption, the cost of operations will be less both the healthcare individuals and patients. During drugs and medicines supply, each transaction is updated and maintained with time-stamped so that the drug traceability will be easy, and also the chances of fake drug supply are eliminated.
Check out APAC CIOAdvisor's Top Blockchain Solution Providers - BitPost, Decentralized Vision, Diginex,...
Health data is an important asset for both individuals and data-driven health professionals. The current system lacks the means to link existing data and to unlock its full potential for the benefit of all market players due to integration problems. One of the blockchain approaches with which information can be safely recorded and shared is to anchor data to the public blockchain. The blockchain technology offers tools that help consumers stay healthy, monetize their data, and save money on medical costs.
Blockchain can improve and personalize patient experience significantly by providing faster access to trusted data and facilitating greater cooperation and transparency. The healthcare industry has already become blockchain-based due to the rapid development of blockchain, with many companies worldwide implementing it within their businesses. Blockchain technologies promising better patient care and results are on the horizon. The blockchain-enabled new healthcare technologies help in automating complex processes, operate more efficiently and reduce costs for payers, suppliers, and even consumers.