Enhance Security Measures with Growing Adoption of IoT
By CIOAdvisor Apac |
Thursday, January 01, 1970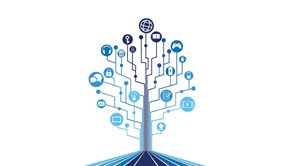 Almost everything connects to the Internet of Things (IoT) like devices, applications, sensors and all of them can communicate and share data with each thereby providing a seamless experience to the users. These communications are helping businesses grow in real-time, but with this, the surface area for threats has increased even larger. Below mentioned are a few steps that organizations need to adapt to improve their enterprise IoT security.
1. Reviewing risk factors: Organizations must test and assess the risk of connected devices. They must evaluate the risk and build a priority list to address the primary security concerns like encryption and authentication. A reliable and sufficient risk assessment will help in assuring that there are no loopholes in the security landscape.
2. Encryption is a must: Enterprises must evaluate all the use cases for the connected devices all the data are encrypted and in transit. End-to-End encryption for all the products is essential to ensure that this key feature is implemented in all the IoT projects.
3. Authenticity: It is significant for all organizations to review all the connections being made to their device, which includes manual and digital to ensure authentication schemes and allow only trusted connections to the IoT device. However, using digital certificates help in providing a smooth process of authentication with identities that links to the cryptographic protocol.
4. Instill integrity: Account for the basics of device and data integrity to include secure boot each time the device starts up, also secure the air updates and using code signing to ensure the integrity of any code being run on the machine.
5. Strategize for scale: organizations must make sure that they have a scalable security framework and a structure that is ready to support any IoT deployments. Plan accordingly and if required consult a third-party that has the scale and focus on helping a particular enterprise to reach the organization's goals and help in its future growth as well.
With the rise in the connected endpoints and devices, IoT deployments are demanding the need for increased automation in the monitoring of data, identification of threats or fraudulent activities and other security measures. IoT is more than just devices sharing data or communicating, and it's the future of economic and industrial growth.