Enlarging The Use Of HR Technologies For Employee-Centricity
By CIOAdvisor Apac |
Wednesday, October 30, 2019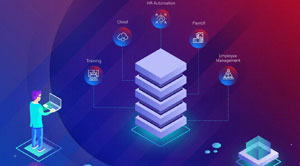 Summary: The introduction of HRMS, BI tools, and Recruitment as a SaaS platform has resulted in a true intervention for the HR professionals to simplify the process and enrich employee-management relationships.
FREMONT, CA: Technological innovations in Human Resource have cleared the decks of everyday work, allowing HR professionals to focus on prevailing and face-to-face tasks. The latest of the technologies like AI, robotics, digitization, and automation are redefining the parameters by lowering the process costs, and increasing productivity. These developments have improved the company, both internally and externally, and the modernized HR department is no exception.
• HRMS as Employee-Centric System to Enrich Productivity
With quality employee self-service (ESS) portals, the modernized HRMS eases up the workload allotted for HR teams, while streamlining and automating the related tasks effectively for the employees. ESS serves as an assistant for employees and saves time in handling issues related to personal information and updates. It can also process leave requests, time offs, and reporting managers can address efficiently. As a SaaS platform, the HRMS can disperse funds; and manage expenses, withholdings, and taxes.
Holistic employee management software with multiple features like geo-attendance and geo-fencing brought new dimensions to digital HR sector. The employee-centric HR processes are diverting attention on user experience, which has improved the productivity of companies in large scales, aiding the organizations to focus on technical and industrial targets and succeed.
• The Recruitment Process starting from social media
A greater talent pool can be made available via social media and utilized to tap into more recruits through their respective social media profiles. These profiles of both companies and candidates serve as a platform for branding and recruitment. A well-structured HRMS streamlines the process of recruitment through social media and avails the best talent for hire after an unbiased assessment by the software to the company.
• Integration of BI tool with analytics for Organizational Insights
The automated L&D and a performance manager create an enriched ecosystem by the inclusion of digital feedback, engagement tools, and analytics. The Deloitte capital trends report for 2018 depicts an increase over the past three years in the field of integrated approach in organizations that employ BI tools for analytics. The latest advancements in the BI and talent analytics justify cost-effectiveness of HRMS and enable the management to make faster decisions real-time and from the data sourced from a centralized database of the HRMS. At present, the BI and big data analytics have become the benchmark to the future of the modern HRMS, which functions as the bridge for better employee and organization relationships.
Check This Out:- Top Employee Engagement Solution Companies