Ensuring Business Growth with AI
By CIOAdvisor Apac |
Monday, June 10, 2019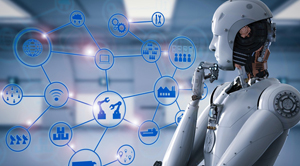 FREMONT, CA: Artificial Intelligence has achieved considerable popularity across industries like healthcare, transportation, manufacturing, logistics, and retail while setting an example to other companies about the appropriate use of AI to improve their efficiency and performance.
Decision-Making: The recent progression in the network and storage technology has brought about an upheaval in the big data era. Because of the enormous size of the data, analysing it becomes difficult without human intelligence interference, so AI-based platforms and ML solutions can be used by the enterprises to manage their information databases like transactions and customer records.
Client Service: The companies are built for and around the customers, making them the vital asset for the company, meaning which satisfying their clients is of utmost priority. To improve the customer experience chatbots have been deployed, that can converse, read, and analyse client information from the beginning of the interaction. Various social media platforms can also be utilised to attract and maintain a healthy customer relationship with loyal clients for the long run.

Managing Business: AI can be used to schedule conferences and meetings or even trips, which are essential entities of business management activities. Predictive-analysis and data-based insights are major requirements of a company as it taps the improved advice for the advancement of the upcoming products by reading policyholder trends.

HR: The AI-based facial recognition applications are in use to conduct interviews with candidates and evaluate the performances via emotional insights, which can narrow down the recruitment process in the company.

Marketing: AI-based apps perform daily tasks as well as personalise marketing and sales information for clients to develop customer satisfaction; on the other hand, ML and IoT can help in optimising market prices. The apps also provide data about competitors, suppliers, and risks to create pricing models for every individual market segments. ML algorithms manage the inventory better by automating fill up requests and amplifying supply chains with the help of AI-based apps.

Automated cars: The self-driven cars and trucks are AI-dependent devices can be considered as an essential transportation service system for the companies which use these autonomous cars for better efficiency, keeping in mind the cost-effectiveness.