Everything about data visualization tools
By CIOAdvisor Apac |
Friday, November 30, 2018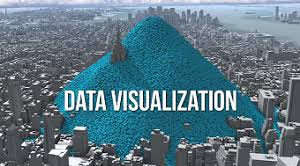 Data visualization is all about creation and study of the visual representation of data. Data visualization uses images, charts, graphs and other tools to communicate clearly and efficiently. Visualization tools for big data unlock the value of data collected by enterprises. To get the best result it requires building an infrastructure for aggregating data from across the enterprises. It also needs simplifying processes of discovering and sharing insights.
Following are some of the features that are considered when an organization is adopting visualization tools for big data:
Embeddability: Big data provides insights which need to be embedded into operational business systems to guide users properly. When embedded via dashboards into the interfaces or tools, visualization provides more value to the end users. Visualization includes portals and applications already in use as visual analytics doesn't need users to acquire new skill sets.
Actionability: visualization tools should deliver practical value through useful predictions and prescriptions. Transactions or write-back features make visualization immediate actionable. Features which support action-ability include support for trend-lines and advanced analytics workflow.
Performance: Visualization tools which distract workers from the flow of their work are less likely to be used. Even a second's delay should not occur because it may discourage users.
Dynamic infrastructure: Serverless computing is an emerging paradigm for the provisions of applications which is managed by cloud services. Serverless tools increase agility for big data and ad hoc analytics projects.
Collaboration: Visualization tools which have real-time collaboration capabilities allow employees to have more meaningful conversations about their discoveries. It also includes the ability for employees to collaborate in real time on current data.
AI integration: Visualization tools for big data which use machine learning, deep learning, and natural language processing make analysis, exploring, predicting, and prescribing easy. Creating a partnership with companies to do the AI integration slow down the process and confuse the users.
Visualizing big data provide companies with new insights and strategies by which the companies make profits and also make understand their clients. Data visualization turns data into images that anyone can easily understand. This makes the visualization tools valuable.