Five Ways toward Agile Business
By CIOAdvisor Apac |
Saturday, December 08, 2018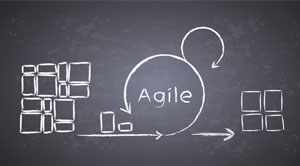 In the technology-driven environment, companies require speed in improving the marketing strategies thereby making organizational agility more vital. Most business experts believe that being agile can play a significant role in enhancing customer experience and increase the revenues. Agile encourages fast and flexible response to change in delivery and prioritize the users. Listed below are a few steps to create a business more agile.
1. Multidisciplinary Teams: Agile teams focus on a shared goal and therefore include talent from the product, customer service, technology, operations and other relevant parts from the business, unlike the traditional hierarchal framework where the decisions were brought only to the senior management.
2. Minimum Viable Product: Traditional product development used to take years and by the time company used to introduce a new product in the market, customer's needs might have changed, or a competitor may have already fulfilled that need. Agile teams focus on delivering Minimum Viable Product (MVP) to its customers and refine it based on the customer feedback. This technique helps in ensuring that the product is aligned with the needs of the customers.
3. Encourage taking risks: It is advisable for enterprises to take risks and learn from their failure. Moreover, agile supports constant innovation, requiring an environment wherein taking risks, failing and learning from that is encouraged by senior management.
4. Implement a culture of collaboration: Agile requires changing the working process of the organizations. It includes pivoting employees from focusing on individual task to focus collectively on customer needs and ensuring that agile teams are collocated in workspaces that are designed for seamless collaboration.
5. C-suite Executives: The C-level management plays a crucial role in encouraging agile adoption and provides necessary funds, training, and empowerment for the same. The leaders have to put forward a clear vision about embracing agile and ensure that the first few agile project successes are shared across the company. Senior leaders must play an active role in the process of developing an agile model by visiting agile workplaces, reviewing output and providing a leadership perspective to their teams.
Companies across all industries need to stay competitive in this ever-evolving era of technological advancement. The benefits of agile integration include employee engagement and efficiency, client experience and all vital components to achieve long-term success.