Guidelines to Improve Enterprise IoT Security
By CIOAdvisor Apac |
Monday, February 04, 2019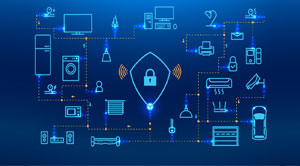 Internet of things (IoT) technology has showcased immense possibilities for industries to automate their processes and increase efficiency. Businesses have embraced the technology for the same but a drawback that IoT withholds is vulnerability to cyber attacks. Smart sensors are an easy target for conducting malicious activities and they are connected to the central data repository putting sensitive data to risk. Hackers can easily conduct various cyber attacks such as DDoS, data stealing, and data manipulation. Enterprises will now have to focus on securing their IoT network as devices are inevitable for automation growth.
Device Security
Providing security to a multitude of devices is a tough nut to crack. Unlike, smartphones sensors and other connected devices cannot be secured with passwords to log in, it requires technology. Artificial intelligence (AI) is the one that holds the capability of securing multiple devices at the same time. AI security frameworks have high computing speed enabling them to provide real-time cybersecurity. The security system can easily adapt to ever-changing network landscape and modify itself accordingly; it learns from past attacks and develops a security measure for the future automatically.
End-To-End Security System
Businesses at times compromise with some end of the network while assuring security. This proves hazardous as its results can be distributed-denial-of-service (DDoS). Organizations must ensure the security of IoT network at all ends, from network providers to end user. Securing the end-to-end ecosystem which comprises network providers, application developers, platform providers, and end users will only ensure complete security.
Check Out IoT Solution Providers - LX Group, PTC [NASDAQ: PTC], RenGlobe Tech Solutions,...
Encrypted Protocols for Secure Communication
At very least, all web traffic must utilize HTTPS, Transport Layer Security (TLS), Secure File Transfer Protocol (SFTP), DNS and other secure protocols to communicate. Many IoT devices use normal text format for data transfer making it easier for hackers to get their hands on data, instead encrypted format is highly recommendable as decrypting without the key is hard. Encryption also ensures that malware has not infected data.
Authentication is a Must
All digital and human connections to the network must be authenticated for security. Only trusted connections must be allowed for IoT devices. Digital certificates can be a help in the same for organizations as they provide authentication bound with identities tied to cryptographic protocols.