How Big Data Analytics Can Reshape the Construction Industry
By CIOAdvisor Apac |
Tuesday, December 11, 2018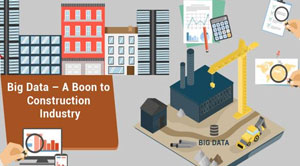 Construction Industry has been the victim of cost overruns since organized construction began. Inadequate cost controls, poor construction, and budget violations are common in the modern construction industry. The questions regarding why have construction industry historically and consistently been affected by cost overruns, poor construction management, poor record keeping, and schedule overruns are still prevalent.
Millions of data points are continually created on the construction site by field crew. These data points contain critical information that can protect the interest of owners, investors and many more. In recent years, technologies have been created to remediate problems before they develop and affect the budget negatively.
Monitoring real-time data points result in positive and lucrative outcomes. Several levels of management reap the benefits of these data points. For example, project estimators benefit by comparing historical costs to actual costs when planning a new project. Superintendents benefit from going through the real-time reports on completed construction activities, materials received on site and more. Project executives effectively assess business processes and predict project feasibility. The overall project receives enhanced transparency and heightened accountability. In case of litigation, lawyers are armed with an evidence-based forensic audit trail of construction activities.
Useful construction management tools with real-time predictive data can help competent and experienced construction stakeholders in improving profit margins. Targeted real-time predictive data reveals things that could go wrong. Predictive data is a game-changing solution, and it can incorporate information from the back office to the field. In some cases, predictive data can provide objective conclusions without any need for analysis.
Construction stakeholders need a software platform that provides unadulterated data. Currently, the stakeholders gain insights based on data acquired from several platforms to validate project progress. A single integrated platform that provides a transparent audit trail diminishes confusion, leads to greater accountability, and will be a game changer for the construction industry. Labor workforce is as essential as data. According to a report by McKinsey Global Institute, improvements in labor productivity can lead to $1.6 trillion of additional economic value and would add up to 2 percent to the global economy per annum.
There are several technological advancements in the construction industry, but these tools fail to affect labor productivity of field crews. These tools lack progress in real-time field activity reports. The game-changing data tools would empower decision-makers to tackle issues that negatively impact labor productivity.