How Does AI Contribute to the Transformation of Businesses?
By CIOAdvisor Apac |
Friday, March 08, 2019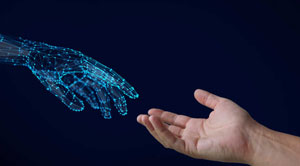 Advances in Artificial Intelligence are poised to skyrocket in 2019 as companies and multiple industries are depending upon this technology to gain greater insight and make informed decisions. AI has evolved remarkably in the last few years, becoming an integral part of businesses today. Let's explore how AI will revamp the companies this season.
1. Speedy Customer Service: Client service is one expensive and significant department that has incurred losses many times. However, AI plans to transform customer service via conversational AI. It enables services to clients in a human voice and high-end scalability through automation and AI. The relationship amid the company and client will enhance as they can approach each other irrespective of different languages and time zones. Weekends or holidays would not be a barrier as AI will immediately respond to the queries.
AI will aid personalized customer service thereby increasing customer engagement. The technology will help companies to analyze the massive quantity of data and identify the specific needs of people. Hence, a company would not send bulk messages to all its contacts rather each would receive a personalized message depending upon their interests.
2. Marketing and Advertising: AI can help in identifying the target audience. Instead of categorizing the entire segment under one umbrella, AI identifies the preferences and treats accordingly. Personalized marketing efforts have higher conversion rates, more client engagements, and extensive data regarding consumer behavior. AI helps companies to build effective advertisements by recognizing social profiles, search patterns, and search history as well. It will further assist companies to benefit from big data by forecasting sales and market trends in respective industries and provide recommendations to utilize the opportunities optimally.
3. Business Analytics: AI has shown remarkable results in analytics across industries. It is used for recognizing voices, automating tasks, facial recognition and digital assistants, Chatbots. AI has been a great help in the healthcare industry by diagnosing the diseases that are treatable on time. With the enormous amount of data present, AI can analyze the relevant data over mass quantity and provide appropriate suggestions. The technology's interpretations would assist in establishing and maintaining the company's competitive edge.
4. HR Responsibilities: AI will help human resource management to free from monotonous tasks such as payroll management, recruitment, and other clerical works. The HR department should aim at providing employee satisfaction and empathy leading to a happier workforce. It can be done by tracking work activities and stress level which could help the HR department to reduce the workload if required and address employee concerns.
Employees face the issue of favoritism in the corporate world which is not healthy for any enterprise. Therefore, this inclination toward a few employees should be eliminated. However, AI algorithms use data to derive a decision and reduce bias in the screening process thereby helping managers to identify preferences.