How is Digital Twin Technology Driving Businesses?
By CIOAdvisor Apac |
Friday, April 05, 2019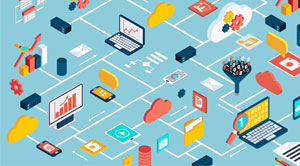 Digital twin technology is not a new concept, but it came to limelight only when recently Internet of Things (IoT) made it available to all, cost-effectively. Witnessing that digital twin is gaining widespread adoption in today's businesses; Gartner listed the technology as one of the Top 10 Strategic Technology Trends for 2017.
Digital twin is nothing but a virtual model of a process, product or service in an industry. The combination of the virtual and physical worlds enables the analysis of data and monitoring of a system's functioning to develop solutions for any potential problem, proactively. The technology also helps in minimizing downtime, creating new opportunities, while helping in planning product innovations by using simulations. With digital twin technology, businesses can examine every step of the product transformation—from development phase to design and testing.
How does digital twin technology actually work? The technology utilizes smart components that use sensors to extract real-time data of the physical model. These components later send the collected data to the other side through a cloud based system, where required insights are gathered using data analytics. Outcomes are optimized by a steady transfer of data. Not just the real-time data, but digital twin also makes use of the historical data to develop the most useful predictive analytics.
To know the future needs and issues during the product development phase and respond accordingly, digital twin amalgamates artificial intelligence, machine learning, and data analytics. It helps businesses to predict the problem even before it caused in the physical system. It is an optimal way to scrutinize performance within minimum time and capital.