How Is Enterprise Mobile Development Bringing in Best Strategies to IT
By CIOAdvisor Apac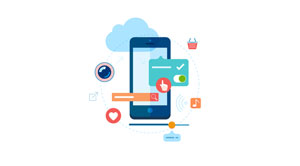 The growth of enterprise mobile application can be credited to the increasing use of smartphones and tablets. The proliferation of mobile devices can be said to be a result of the urge to be dependent on mobile phones for every possible thing. Users deny waiting and preferring options that offer cutting-edge features which are convenient to use and allows the task to be completed on-the-go. Below mentioned are the growing changes in the enterprise mobile development space.
• Progression of Blockchain: Blockchain will result in a massive paradigm shift because of the organizations that are looking forward to security features that are present in the internal structure of an application. This is forcing companies to hugely invest in the distributed ledger technology called blockchain which will have a tremendous result in 2018.
• Big Data: Organizations are integrating technologies like Artificial Intelligence (AI), Data Analytics and the Internet of Things (IoT) in their solutions. Mobile app developers are raising the bar of development by adopting the cross-platform mobile development application platform to develop apps that can be used across different mobile platforms. This will lead to a new level of personalization of application where developers will introduce to mobile apps that can make use of big data and simultaneously use AI for personalized experiences.
• Mobile apps as the foundation of IoT: Mobile applications have shown an enormous increase in the past few years that they are now influencing the rise of IoT. These mobile apps are building a bridge between the organizations and the people by enhancing the daily lives of the people. Therefore, we can state that mobile apps have become the catalyst in the rise of IoT.
• AI aiding in the adoption of smarter apps: Customers are highly dependent on mobile apps to assist them in all the works. The adaptability of AI and its learning capacity allows organizations to study and meet the needs of their clients with the help of personalized services. Intelligent apps which will be more focused on the user needs, offer better customer service and which will give a significant ROI for business will become the new criteria for setting up an application.
• AR/VR: Augmented Reality and Virtual Reality are providing unique experiences to customers with the use of mobile applications. These are highly used in apps related to shopping, and business. For instance, customers can now visualize how their workplace will look with all the furniture using the AR technology, thereby enhancing the customer's experience of the services.
Mobile enterprise is and will develop with time. Businesses are transforming the way they work by integrating all the latest technologies from AI to Blockchain to Cloud and many more. With the advancement in technology, enterprises are approaching new ways as in how to pitch their clients. Businesses are adapting to the new forms of development, and there is increased transparency on how business transactions are being taken place.