How smart technology elevates sports
By CIOAdvisor Apac |
Friday, January 11, 2019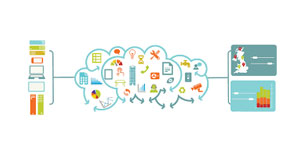 Today advanced technologies have been impacted sports remarkably. The use of wearable technology, big data analytics, and sensor technology has revolutionized the way of playing sports and analyzing it. Athletes, coaches, and sports physicians are able to have greater insights into their performance, improve training methods and elevate their skills with the help of the technologies.
Technology gathers and stores data of every second of games and movements of the players that can be analyzed later to create new strategies and increase their athletic performance. Sports as swimming, cycling, and racing are making every second count with the help of smart devices. Following are some of the ways smart technologies are transforming the way of today's gaming:
Wearables: Wearables collect information for analysis, track everything from the athlete's heart rate to body chemistry. These data help the coaches and players to improve the performance of the athletes and minimize having injuries. Data collected by wearables drive the athletes to a competitive edge through better gear. The industry is moving away from hard plastic wrist wearables to next-gen smart sports wearables.
Sports genetics: Science now can tell which sports should be opted for anyone analyzing his or her genes. Genetic counselor advice athletes about the ideal workout and training to prevent injury. Technologies criticize genetic factors which are responsible for athletes' certain health conditions and guide accordingly.
Data analytics: With the help of data analytics every little thing an athlete does can be studied, assessed, and broken down into its individual elements. Analytics helps to get control over conditions that led to failures or successes to be removed or recreated to improve future performance. Applications help coaches to determine how high each player's injury risk is and make decisions on who should be played and who shouldn't whit the help of analytics.
Virtual reality (VR): VR makes it possible to be no longer presented in the field or court to practice and improve. Virtual reality (VR) makes conditions real for athletes for training. The data collected from the training sessions can be used to compare results and improve performance. Also, VRs enable athletes to have a better vision of the games and anticipate the actions of the opponents.
Technological resources are now available to elite athletes to such an extent that the key to succeed becomes creativity, intelligence, and drive. With the advancement of the various technologies, it will be the athlete whose commitment to training harder and improvement will make the result as a winning one.