How Technology is Changing the Future of Logistics
By CIOAdvisor Apac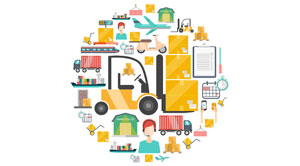 Technology has revolutionized the whole spectrum of a business's day-to-day work. Technology has helped the businesses immensely to serve their customers efficiently. The customers have access to all the services at their fingertips. There has been an upsurge in online service providers. Amazon is one of the biggest players in e-commerce industry. They are the pioneers of almost all the innovative technologies present in the e-commerce industry today. Product delivery system has also been upgraded, and many new technologies have helped to speed up the logistics process and to make it more transparent at the same time. The technical advances have significantly improved all the areas of logistics like road transportation, air and sea transportation, shipment tracking, and supply-chain management.
Here is a brief description of the technological advances that have changed the logistics:
Shipment Tracking System: Gone are the days when after purchasing a product customers were kept in the dark till their product's arrival. Phone calls were the only way to know about the shipment status of a product. Customers can track their product in real time today. Businesses provide an upgraded system where the customers can monitor and manage the delivery status of their product in real time. Shipment tracking helps enterprises to improve the user experience and at the same time saves money and time for them.
Internet of things: IoT has helped businesses a lot to connect with their customers and provide optimum customer experience. Sensors are built into the cargo system like ships, trucks, etc. that monitors and tracks the shipment. The sensors send real-time data about the shipment status. This helps to reduce the risks. IoT provides a better system for better in-transit visibility and delivery of goods.
Radio Frequency Identification: Companies use RFID technology to track their inventory. A tag or a sensor is placed on the products, and the sensors send radio signals in real-time which helps to identify the location of the product. RFID tags are more like barcodes but with better data delivery and data processing speed. This technology is largely used in the clothing industry and theme parks.
Automated Drones: Drones are unmanned aerial devices which can travel places with automated commands only. Amazon has announced that the drone delivery system will come into effect in the near future. Companies are also experimenting with autonomous cars and trucks which can run using GPS and remote commands. This will speed up the logistics process to a large extent.