IIoT Advancements in 2019: Opportunities for Enterprises
By CIOAdvisor Apac |
Tuesday, April 09, 2019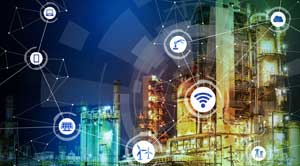 Industrial IoT (IIoT) is changing manufacturing today. Human capital and traditional business intelligence software will coincide to provide improved productivity through real-time intelligence. Machines currently store data on cloud platforms to increase uptime, energy efficiency, and production quality. IoT is expected to get refined in 2019 making manufacturing intelligence a reality for better ROI. Data from IIoT is turning out to be a valuable asset with the development of specialized algorithms. Manufacturers use data as leverage to gain a competitive edge; a controlled production environment can deliver better yield. The quality benchmark can be enhanced by 20 percent, by correlating previous data and quality failure data from machines and IT systems.
Companies are on a lookout for ways to incorporate their algorithms to benefit their manufacturing. Data scientists are now able to solve multilayer problem by processing huge amount of data. A new set of reporting applications can be built with process controls by using all the data. Industrial syndicates around the world are drawing analytics from the supply chain; the primary objective of doing this is to get a closer view of the inputs that affect the bottom lines. The ODM is anticipating enhanced compliance with production benchmarks and quality norms among their suppliers. The key benefit of doing this is to gain traceability across the supply chain. An automated data common must be created for the sharing of production, energy, quality, and maintenance data between ODMs and their suppliers is the only way to achieve objectives. Using IIoT, the data can be directly pulled from machines and shared with ODM via Applications Programming Interfaces (APIs).
This year, manufacturers will open a Greenfield manufacturing facility only if the digital footprint of the factory is already in place. Existing facilities are working to enhance their digital footprint to benefit from IIoT. To tap into machine data, every facility must be in place to make it available for IT applications. Every automation process, equipment, and IT system implemented must be built with the ability to share data via open protocols and standards. Adding IP interface and support for open data standard protocol and standards, machine data traveling in a dedicated networking path can service stringent SLAs. Skilled labors must be identified and hired to handle the machines to maximize output.