Impact of Augmented Reality on Social Media
By CIOAdvisor Apac |
Monday, February 11, 2019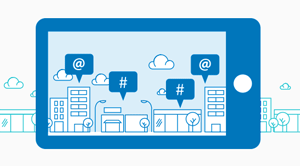 Augmented Reality (AR) has come a long way from just a science fiction into a science-based reality. In recent years, the growth of augmented reality applications can be attributed to solutions that enable consumers to view products and imagine what they might like or experience the service before they actually buy it.
Augmented reality is already making a notable impact on social media. AR is evolving to be able to today put 3D objects on places, and this is a new kind of AR that will surely be very important in a social media strategy. The famous social media networks like Facebook, Instagram, and Snapchat have already adopted AR. Apple launched ARKit in 2017 and Google released ARCore for Android—both are powerful tools to create AR apps for developers.
Snapchat was one of the leading social media platforms for the integration of AR into their application. We have already seen Snapchat users explore the latest AR integrations offered by the platform. Snapchat users can develop their own AR lens. Snapchat users can play games with other Snappables users and friends, mainly AR selfie games. One more feature released by Snapchat is Shoppable AR that enables brands to promote their websites and sign-up pages, share a video, and install apps.
Check out CIO Advisor APAC's Top 10 AR/VR Technology Solution Providers - 7DX, 7e Systems, VRTY,...
Facebook has partnered with many of the brands to achieve the company's AR plan. This helps a company to develop an enhanced advertisement platform driven by augmented reality. This allows Facebook users to prefer the new and exciting content delivery approach.
TweetReality, an app developed by Oscar Falmer, takes iPhone user Twitter and displays it in front of users like a dashboard. Everything from profiles, tweets, mentions, and searches are shown on camera.
Social media users no longer care about television-style ads that try to touch their emotions. The users tend to buy the targeted products by social media sites. It's important to target the new markets and ensure that they benefit or companies benefit by offering great user experience through AR technology. There's no better place for businesses or companies that social media platforms. Enterprises should make sure that they develop appropriate content for the markets.