Inclusion of Edge Computing in IoT
By CIOAdvisor Apac |
Monday, February 04, 2019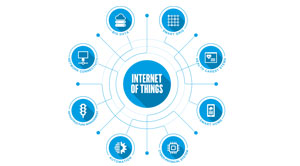 Internet of Things(IoT) is revolutionizing industries with connected devices which allow streamlining processes and creating innovative operational architectures. It needs critical security system because people embed their phones, appliances, robots, and other sensor-equipped smart devices with hardware, software, and data.
As the intelligent network spreads across and covers wide areas by incorporating a growing multitude of devices, the massive volume of the collected data requires resource-intensive processing devices and high-capacity data centers.
Also, centralized, integrated nature of the technology can be eliminated by distributing the control and processing power of the IoT network towards the edge computing. It refers to the installation and use of computational and storage capabilities closer to the edge, the endpoints where the data is gathered or where an immediate response is required.
Edge computing in IoT implies having autonomous systems of devices at the endpoints or the edge that gather information and respond to it simultaneously without any communication with a remotely constructed data center. It eliminates the need for constant connectivity to centralized control systems.
Check Out IoT Solution Providers - LX Group, PTC [NASDAQ: PTC], RenGlobe Tech Solutions,...
Organizations use edge computing to power their IoT systems. Edge minimizes the latency of their network and allows minimizing the time for response between client and server devices. Also, distributing critical data across the IoT network and sitting it on edge devices can limit the loss of data.
If the centralized servers failed due to any reason, all application users lose their data and access to services at once. The servers also have to deal with heavy traffic, causing latency and inefficiency. Whereas a decentralized system ensures that all the data pertinent to specific users are hosted in the closest data center with minimizing latency and mitigating the probability of failures. The incorporation of edge computing into IoT is increasingly treated as a necessity as it enhances the network in terms of functionality as well as performance.