Integrating BlockChain with IoT for Enhanced Security and Privacy
By CIOAdvisor Apac |
Thursday, April 04, 2019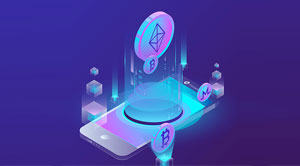 IoT infrastructure is vulnerable to cyber attacks such as malware, DoS attacks, Man-In-The-Middle attacks, and brute-force attacks.
Blockchain technology can resolve scalability, privacy, and reliability concerns in the Internet of Things. Blockchain technology can be used to track all of the connected devices in a network and enable the processing of transactions and coordination between devices which will eventually allow significant savings to IoT industry manufacturers. This will eliminate points of failure, creating a more flexible ecosystem for devices to run on and the cryptographic algorithms used by blockchains will make consumer data more private.
Cost-effective
Blockchain-based networks can create a decentralized peer-to-peer connection among IoT devices and help process more data requests using various end-points which will result in distributed data storage and computation tasks. With this approach, organizations can reduce storage and computation costs that occur while running a centralized system.
Check Out CIOAdvisor's TOP IoT Solution Providers - LX Group, PTC [NASDAQ: PTC], RenGlobe Tech Solutions,...
Enhancing data exchange
Data collected from various IoT sensors and wearables can be encrypted and shared using secure blockchain wallets. The data stored in blockchain wallets can be accessed by authorized devices and systems.
Enabling smart contracts
Blockchain in IoT can take advantage of the device-to-device interaction capabilities of IoT to introduce an autonomous payment mechanism. For example, Blockchain can benefit vehicle owners from automated fuel purchases by installing special IoT sensors in vehicles that interact with IoT devices in fuel pumps. At the time of refueling, the IoT devices in the fuel pumps will verify vehicle and driver information stored in IoT sensors in the vehicles and automatically receive precise payments.
Autonomous cars can exchange information such as traffic information, accident reports, and proximity to other vehicles. With this data, autonomous car manufacturers can improve on-road decision-making.
Enhancing Security and Privacy
With blockchain in IoT, the decentralized networks can ensure encryption of data across the network. In case a cybercriminal gains access of a file or alters contents of a file, the digital signature of that file will not match with the original signature generated during encryption. The integrity of data can also be verified with this technique
Blockchain in IoT can provide better security and privacy. Every IoT device will be registered with a unique blockchain-based ID to help in the identification of each device. To establish a machine-to-machine connection, the local blockchain wallet will have to send a digitally signed request to the target device and then the target device will verify the signature using the public key of the sender.