Introducing the Future of the Next-Generation Mobile User Experience
By CIOAdvisor Apac |
Wednesday, December 05, 2018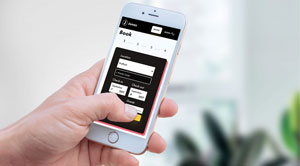 As technology is advancing, mobile users are expecting and demanding more from their employers. And fortunately, these new technologies are making it feasible for organizations to bring up the latest innovation for mobile experiences.
Organizations are taking a step forward in providing excellent user experience to its users and employees. They are moving beyond the basics of a mobile-friendly website and an intranet via a secure browser. With the augment of new devices, processors, and software, organizations, are in for a more advanced approach wherein they create contextual and predictive mobile experiences that delight customers and the employees.
Now when we talk about the next-gen interface, the focus entirely relies on providing the right information, to the right screen, for the task at hand. Moreover, application developers' needs to specify which data and workflows are appropriate for which device.
• Data input methods
Other aspects that have transformed the mobile user experience are the ways a person can input data. Touch was the first and one of the most significant revolutions in this industry. But now as the technology advances organizations are looking forward at how augmented and virtual reality can change the interaction with the data. AR has marked its place in many industries including manufacturing and retail. For instance, there are shopping websites which let users view themselves in a particular dress before making a purchase.
• Voice and Chatbots
Voice assistants have taken over the market. Apple's Siri, Google' assistant, and Amazon's Alexa have brought a new experience of interaction with the products altogether. Human resource departments are welcoming chatbots to connect well with the candidate and get into deeper engagement in the recruiting process. Many major enterprises are planning to integrate voice into their services to smoothen the access of information.
To add a conversational interface, organizations would require natural language processing services, and for that, the former needs a good set of training data from previous interactions. IT department should also consider sentiment analysis and also identify texts whether it is positive or negative which would further help in addressing feedbacks in real-time to identify issues, comprehending the market position and then prioritizing the feedbacks.
• Initiation of 5G
The advent of 5G will change what enterprises can expect from the network. As 5G works on different radio spectrum frequencies, it allows various wireless carriers to connect more devices to the internet while delivering information faster and less delay in the process.
Instead of users pulling information, the application must predict what information is to be delivered based on the past consumer behavior.
These technological advancements open a new world of user experiences that move from one innovation to another thereby delivering the right information, at the right time.