Introduction to Data Monetization and Its Development Strategy
By CIOAdvisor Apac |
Friday, March 29, 2019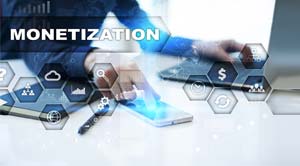 Data—the fuel of technology and asset of the future—requires resources for its optimal utilization. Blue-chip organizations though have the required, but SMEs lack the same to begin with. To address the issue, data monetization can be brought into effect, where leading companies can sell a part of their data to SMEs and start-ups for the kick start. Moreover, they can generate new revenue models from the same as well.
To build data monetization platform organizations will require data accumulation technologies for agile and continuous inflow of data. Big data and the Internet of Things (IoT) have already proven their capabilities in the landscape of data gathering and storage. Also, these technologies have a widespread adoption among industries making it easier to for companies to integrate data monetization in their existing business models.
When it comes to accountability, democratization, transparency, and authenticated security of data, blockchain is the only technology to make a firm stand. Although the technology has not been able to be a part of applications apart form cryptocurrency, still its domination and usability are evident.
Check Out CIOAdvisor's TOP IoT Solution Providers
The distributed ledger will allow entities to share data securely with complete accountability of data transactions, understanding the potential several blockchain start-ups have emerged serving data monetization services. Organizations can either go for such start-ups, else can develop their platform for the same. But, firstly companies will have to define the type of data they collect. Each company collects a specific type of data which is useful to prospective buyers only.
After which, enterprises can determine the prospective start-ups, SMEs, or other well-establish organizations that require their set of data. Recognizing and dealing with potential buyers will result in better outcomes and higher revenues. Blockchain can also be fruitful with payments and agreements. Smart contracts can automate the secure payment process depending upon terms of the agreement, eliminating payment delays. Ultimately, data monetization will act as a solution to data collection, storage, and analysis.
IoT Solution Companies - LX Group, PTC [NASDAQ: PTC], RenGlobe Tech Solutions,...