IoT Geared for Helping the Healthcare Industry Achieve Success
By CIOAdvisor Apac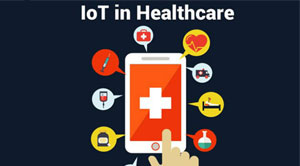 With the expansion of the healthcare Internet of Things (IoT), various organizations are seeking the aid of digital tools to automate the collection of data. With an increase in IoT devices, there has been a tumultuous impact in the healthcare space from the clinician workflow to patient monitoring to asset tracking. Clinicians are also seeking digital tools to help improve the patient experience and assist in more accurate treatment.
IoT offers various benefits, but the healthcare IT infrastructure has to be improved and also evaluated before the organizations can implement the connected devices. They have to either buy new hardware for the IoT or add IoT sensors to the already existing devices. The budget needs to be arranged accordingly as more data is added to the IT infrastructure. Different platforms and applications have to be developed or purchased to make sure the software is usable, and the devices are compatible.
( Professional Viewpoint: Predictive Analytics in Healthcare: It's Not Happening )
When dealing with mobile, stationary and IoT devices, organizations cannot develop software in the same way as all communication with the network in various ways. The software that works for a mobile device will not work for an IoT device and treating all the devices the same will lead to vulnerabilities in the security infrastructure. Even IoT devices that may not seem hackable can also threaten the network if not appropriately monitored. Harmless devices like defibrillators can also violate a patient's privacy just like a computer or smartphone.
As IoT impacts every aspect of healthcare, organizations have to consider the entire infrastructure before utilizing IoT devices. They might find unprotected and insecure devices that do not perform optimally. So, full support to IoT devices is essential to healthcare success.
---
You may like: Equal Importance of both Cybersecurity Efforts and Patient Care
By Sara Jost, Global Healthcare Industry Lead, Blackberry