Management Tools Protecting Valuable Corporate Data
By CIOAdvisor Apac |
Friday, November 08, 2019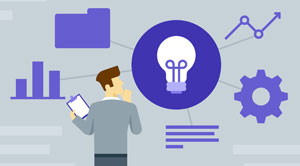 Enterprise Mobility Management is progressively needed for large and small enterprises due to increased adoption of BYOD (Bring-your-own-device), competitive pressures, efficiency extraction and increased productivity possibilities, as well as other factors. As different organizations and others allow mobility unless they become keenly aware of security considerations such as provocations and attacks that they need to proactively manage in their work environments to a small extent.
If the organization is prepared to invest in the assets, open source EMM provides flexibility in customizing and extending the source code to meet specific needs. IT professionals should be aware of the difficulties of keeping their own open source EMM, such as hidden deployment costs and lack of support. WSO2 Enterprise Mobility Manager or Teclib's Flyve MDM includes a few options for open source EMM. WSO2's offering involves enterprise mobility tools such as mobile application management and mobile identity management. It also contains IoT Server assistance for open source devices, such as enrollment and application management.
Enterprises are looking for existing enterprise mobility tools for UEM platforms like IBM MaaS360, BlackBerry Unified Endpoint Manager, and MobileIron UEM or Microsoft Enterprise Mobility & Security, which encompasses Intune. IT professionals can handle identity and access control from the cloud to Office 365 applications and corporate email. It can be challenging for organizations to enroll a vast mobile device fleet on a UEM server. One way of simplifying this is by enrolling QR code. To scan and download the formatted policies, administrators can generate a QR code and send it to end users. But mobile device enrollment with a large organization is a time-consuming process requiring multiple resources.
Proper consideration should be given to security. Thus EMM is about management, as the abbreviation implies, the intent of management tools is not merely to save IT teams from onerous repetitive supply work. It's about protecting valuable corporate data and prestige for the brand. IT staff should ensure that the data protection requirements of their organization align with their EMM software capabilities.