Mobile Printing: What does it mean to an Organization?
By CIOAdvisor Apac |
Friday, November 29, 2019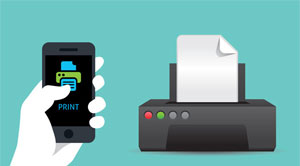 Enabling employees with mobile printing can benefit an organization as it simplifies and meets their printing needs.
Fremont, CA: Mobile printing is simply sending data to a printer, via a wireless connection, from a smartphone or tablet from anywhere in the office premises. Primarily there are two approaches to mobile printing. The first one involves direct communication between a mobile device and a printer, and the second one includes a mobile device and a computer connected to a printer. In this scenario, a mobile device could be a smartphone, tablet computer, or a lightweight laptop computer.
To boost the productivity of their workers, organizations must provide their employees with the right technology and software. Similarly, mobile printing solutions simplify the printing needs of the staff as a fixed PC workstation is not required. This indicates that employees can print from any location in the building effortlessly and finish their tasks in a shorter timeframe.
A CIO must know that achieving mobile printing success is not easy. Mobile devices mainly are not designed for printing. A smartphone's operating system might not be apt for printing. Additionally, a solution depending on loading printer-driver software on each device is farfetched. Lastly, a visitor accessing the secure local wireless network would not be able to print as they do not have the right security code integrated into their device.
Organizations have the option of choosing a low cost or free mobile printing solution that decreases the need for printers on site. If the employees have access to printing wherever they are, it eliminates the need for extensive print infrastructure within the branch office of headquarters. Selecting the right printer for each job is essential. For instance, in the Xerox solution, the document printing process starts when the employee punches in the code into its control panel. Holding the print job until someone manually picks up the document saves ink and paper and in turn saves money.
Few industries are highly dependent on paper such as legal, healthcare, and real estate, while some of their employees are mobile in nature. To identify the potential benefits of mobile printing is to take employees, contractors, and customer's advice if they would appreciate this capability. Questioning them about the requirement of mobile printing or if it would increase their productivity, provide satisfaction, flexibility, and efficiency would reveal insights and help the organization take necessary steps.