Multi-Cloud Strategy Defining Digital Transformation for Businesses
By CIOAdvisor Apac |
Monday, December 02, 2019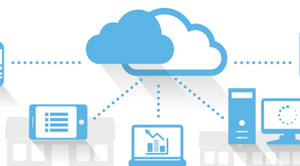 Cloud-based services are the trend that is being rapidly adopted across different verticals of the market. Unlike the past, SMBs can also now shift their operations to cloud platforms for greater ROI as the investment involved is comparably lesser than traditional data center concept. To go an extra mile for greater operational efficiency, the concept of multi-cloud has emerged recently. Multi-cloud architecture is about distributing cloud assets, applications, and software across several cloud-hosting environments. As an outcome, organizations are able to optimize ROI, enhance security, maximize uptime, and achieve true cloud anatomy.
SMBs are veering towards the cloud platforms for their advancement, but face challenges in meeting up the enterprise-class solution because of the lack of proper strategy. Multi-cloud approach adds to the hindrance. Several managed service providers are available to ease the process as they provide solutions which are purposely designed to cater to SMBs. Also, such service providers deal with various organizations in a similar domain and have better knowledge of the trending solutions. Organizations must develop a cloud strategy prior to shifting, for which they must analyze the following.
Check out APAC CIOAdvisor's Top 10 Cloud Consulting/Services Companies – Consultel Cloud, Innovix Cloud, Riley,...
Inventorying of Enterprise Applications
Several cloud applications are ubiquitous for digital transformation, but not all fit the organizational requirements. A proper assessment of available services and applications is a must depending upon the business needs. Determining the applications on the availability of SaaS will be an add-on to this. Organizations need to be clear with the operations that they want to migrate to the multi-cloud platform; it will leverage them to streamline their quest to the required and eliminate the rest.
Integration is Essential
Embracing multi-cloud technology will only be effective when there is proper integration among various cloud platforms allowing seamless workflow. Place the APIs correctly for systems to communicate effectively and create a seamless user experience.
Upgrade The IT Team
IT team must entail employees that are sound with cloud technology. The hiring of new and training of existing employees would result in an advanced team that would efficiently handle the operations being carried over out on the platform.
Check This Out:- Top Cloud Technology Solution Companies
Check This Out:- Top Cloud Consulting/Services Companies