Noteworthy Digital Health Technologies
By CIOAdvisor Apac |
Monday, April 01, 2019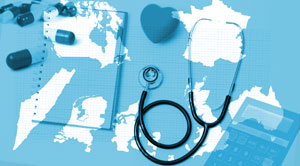 Technologies have transformed many industries at a rapid pace as is the story with the healthcare industry. A convergence of digital technologies and healthcare gave people an opportunity to provide with quality care. Technology has not only changes the experience for patients, but it had a significant impact on the medical process and practices of healthcare practitioners. The latest trends that bring technological innovations to the sector are
Artificial Intelligence (AI)
There is nothing quite as impressive as Artificial Intelligence (AI) with rapid growth and exciting opportunities surrounding it. AI systems can reduce and mitigate the risks of medical scenarios. AI adds an extra layer through which cuts down errors in the field of health care. The common ways AI will change healthcare include Managing medical records and data, treatment design, digital consultation, virtual nursing assistance, medication management, drug creation, precision medicine, health monitoring, and healthcare system analysis
Augmented Reality
Augmented Reality is beginning to make its mark in the healthcare sector. Early adopters are reaping the rewards of implementing AR across their operations. The role augmented reality in healthcare is forecast to keep increasing. Pharmaceuticals realize the significant benefits of AR implementation firstly with educating the consumer through visual simulation. AR allows pharmaceuticals to improve patient education by visualizing complex medicinal products. Secondly, it aids the physician with providing data and information in front of them without detaching from critical tasks. AR is a technology capable of radicalizing the efficiency and cost optimization aspects of surgery. It also provides parallel benefits of enhanced surgeon comfort, reduced effort, and potentially lower prices due to AR's capability to replace operation room display systems.
Big Data
The abundant health data amassed from numerous sources including electronic health records, medical imaging, wearables, and medical devices. Big data analytics along with Internet of Things is revolutionizing the tracking of various user statistics and vitals. It can be a great way to reduce the cost of health organizations. With the capability of predictive analysis, it helps in predicting the admission rates and staff allocation. Big data can also help to assist high-risk patients by identifying the patients approaching the hospital repeatedly and identifying their chronic issues which will help to give them better care and provide an insight into corrective measures.
Blockchain
The blockchain era in healthcare is going on. It provides with a tremendous opportunity to overcome challenges that exist in the healthcare industry. They include interoperability, security, integrity, traceability, and universal access. It addresses the problem of syncing patient data while ensuring security and privacy by adopting a distributed framework for handling patient identity. Blockchain can be used for EHRs to alleviate data fragmentation issue.