Objectives for Evolving Human Capital Management
By CIOAdvisor Apac |
Tuesday, October 29, 2019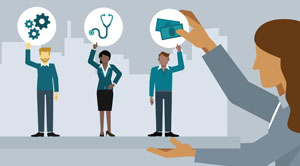 Comprehending the critical strategic principles of human resource management will allow companies to optimize HR activities and satisfy the marketplace's evolving requirements.
FREMONT, CA: As the workplace begins to evolve increasingly toward a more mobile and dynamic world, change is inevitable for human capital management too. Leveraging technology to produce an accurate, secure, and customer-friendly HR system is a great way to ensure that the managers keep up with the changes and optimize their time and resources.
Strategies for maximizing human capital should understand the worker's abilities, expertise, intelligence, principles, and innovative ideas within an enterprise are respected. In order to demand the most of them, an organization should also recognize its workers inside and outside. A human capital strategy applies to methods for hiring the best and brightest talents possible, designing career plans for staff, mentoring and training workers, empowering employees to achieve their best at all times, and implementing performance management approaches, as per the industry experts.
The clarity in the objectives of human capital
Employee management is the ongoing process of harmonizing the organization's priorities and expectations with those of the forthcoming employees to achieve the company's future goals and ambitions.
Knowing the difference between the present state of a company and its target state is necessary. This can help to establish strategies for human capital that not only increase the total productivity of workers but also make them feel more committed to the company at a deeper level. Many instances of human capital priorities include maintaining committed and hardworking workers, improving organizational expertise on an ongoing basis, creating practical training processes for new hires, and recruiting only the best talent in the market.
A clear path toward Goal
The essential component includes a department's perception from within. To create a succinct, consistent strategic system, one must consider the senior management, clients, stakeholder perceptions and priorities, corporate goals, financial constraints, and the interests of existing employees.
The proper system will save the entire enterprise time and resources with functionality such as change planning, time tracking, program management, and schedule strategic planning available right from their personal connected devices. To do this, enterprises will have to collect information from staff, clients, and investors to consider their preferences and desires. Addressing these challenges will help establish a corporation and its team's overall foresight. A successful evaluation, including both the assessment of current employees and where they see themselves and the business in a few years, will help the management to create a robust foundation for the upcoming times. This type of practice may enable organizations to detect any program vulnerabilities or gaps.
Strategies and procedures for meeting business objectives
It can devise initiatives and approaches to pursue them once an organization has set business goals. Specialists in human resources should develop long-term policies to ensure that their workers are happy with their jobs. Pleased workers are more likely to yield their best results, making them more susceptible to excel. Organizations should assign roles to employees based on their areas of interest, experience, credentials for training, or abilities. Nevertheless, managers need to communicate frequently with their staff to know the desires of their employees and to track their progress within the organization.