Predictive Analytics to Support Pharmaceutical Gain the Competitive Edge
By CIOAdvisor Apac |
Tuesday, May 07, 2019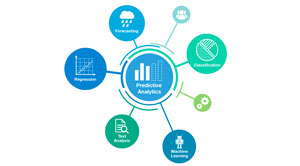 Predictive analytics uses existing data sets, extrapolates the information, and predicts future outcomes and possible future trends. But what's essential in this process is that predictive analytics suggests results on what best a company executive can choose from the given set. How is this a game changer for the companies in the pharmaceutical domain? A company marketing division might have better insights regarding the ailments, which will them prepare niche marketing strategies for serving the patients better and boosting the company returns—one of the ways the technology is put into use.
The pharmaceutical industry is in the rat race to gain that extra moat by adopting big data and predictive analytics. This race has given the space for innovations; as a result, companies like Microsoft and Amazon have introduced different changes in predictive analytics.
Check out: Top Pharma & Life Science Companies
Pharmaceuticals companies and leaders such as Google have partnered with Novartis to develop a smart contact lens that monitors diabetic glucose levels. Simultaneously, Roche and Qualcomm have joined forces to increase the wireless transmission of patient information to anticoagulation monitors that guard against blood clots. As a result of this, doctors will now be overloaded with options specifically for a particular patient only. Certainly, advancements in AI and predictive analytics have made the pharmaceutical industry more collaborative where technology providers and pharma companies work together for developing new products
Clinical trials of super drugs which took ten years to get FDA approval have now become a cake walk, with advancements in drug predictive analytics. Besides, advancements in cloud computing and quantum computing will make drug discovery process easier. IBM Watson Health and Pfizer have recently formed a partnership to help researchers find new drug goals. While the average researcher reads 250-300 articles a year, Watson processed 25 million Medline abstracts, more than one million full-text journal articles, and four million patients. This number can even be increased with private data from an organization to reveal hidden patterns.
Today's predictive analytics techniques have already begun to prove their benefits in the pharmaceutical industry and several other sectors. Those enterprises that would at least start to leverage such advanced technologies today will be able to survive the market competition.
Key Pharma and life science companies: Esker, JAG Process Solutions PTY LTD, LabWare