Robotics Remodeling Nursing
By CIOAdvisor Apac |
Friday, May 31, 2019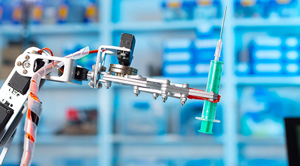 FREMONT, CA: Members of the healthcare community are aware of a quiet crisis creeping up on hospitals all over the country―not enough attendants and too many patients. The trend is, to some degree, fueled by the baby boomers who are reaching old age. Baby boomer nurses are beginning to retire, leaving a deficit of trained and experienced healthcare providers. Complex shortcomings like the nursing shortage necessitate innovative solutions, as the training of more nurses hurriedly is not a viable option for hospitals trying to keep up with the number of new patients. The unfolding solution is in harnessing the authority of technology.
Big Data and Robotics:
Many healthcare institutions are utilizing the power of technology to help patients stay in their homes and out of the hospital. Big data and the IoT have highly developed to allow remote monitoring for patients in their own homes. Entrepreneurs taking the wheel of application building for healthcare usage will be able to take a massive load off the healthcare system. Sensors, applications, and other data-based healthcare tools allow doctors, nurses, and loved ones to monitor patients outside the hospital. The adoption of digital smart pills that stay in the system aids in supervising the effect of prescribed medication. The pills also keep track of vitamins and supplements.
Robots are Making Jobs Easier and Safer:
In healthcare, a robot's role is to occupy monotonous, time-consuming, and dangerous jobs for nurses. While entering nursing schools, most of the nurses dream of working directly with patients, curing the sick, and providing the human-touch and support. Robots can take over the most tedious tasks, freeing up time for human nurses so they can tend to more patients.
Big Data to Make Healthcare Patient-Oriented:
Formerly, healthcare was always concentrated on the amenities offered directly to the patients, not on their outcomes. Today, big data permits the industry to focus more on anticipatory care and to supervise the health of entire populations, forecasting risk factors, and personalizing care. Big data also assists in reducing nursing errors and getting patients through the administration process more competently.