Stay Up-To-Date With the Latest Technology with AI
By CIOAdvisor Apac |
Wednesday, April 17, 2019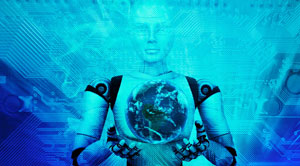 Financial institutions (FIs) are facing many challenges and fight against fraud is one of the biggest. The financial system has always been a target for criminals with so much money and valuable data at stake, and FIs must bear a lot of responsibility for security. The most effective ways to keep fraudsters at bay is to stay up-to-date with the latest technology and there are few more exciting areas of technological innovation than artificial intelligence (AI). It is true that we are still a long way from developing true AI, but the developments that are occupied in this area already offer great potential for FIs.
As the conflict on financial crime heats up, regulators across the world are homing in banks in violation of the regulations on Anti-Money Laundering (AML) and Know-Your-Customer (KYC), and Asia is no exception. Recent research suggests that Asian regulators have levied more penalties for non-compliance in the past three years alone than ever, demonstrating that no region is untouchable in regulatory sanctions.
Check out: Top Artificial Intelligence Companies
AI can mine enormous volumes of data for AML purposes, flagging risk-relevant facts more quickly than any human. It can identify suspicious customer relationships, beneficiaries and links to criminal or terrorist activity when used during the onboarding phase, alleviating the risk of breaches of AML regulation. The technology can track changes in regulation around the world automatically and detect gaps in the financial institution's customer information stored. It can then circulate KYC alerts to the bank urging customers to perform regulatory outreach in order to collect the outstanding information. AI develops leapfrog automation opportunities across large parts of customer life cycle management (CLM) in areas that are currently highly labor-intensive, time-consuming, and prone to error.
This is the time for banks to make a change, with financial regulators in the world cracking down on banks and placing AML and KYC procedures underneath the microscope. And while maintaining regulatory requirements can pose a major challenge, AI will be the best weapon in a bank's arsenal in the war against financial crime when properly implemented. All it takes is a small mental transition and a desire to try something new to change the way a financial institution operates completely.
Few more Top Artificial Intelligence Companies (AGM Digital Marketing Agency, Frasil, Hyperlab)