Stepping into the Future of Intelligent Enterprise
By CIOAdvisor Apac |
Friday, January 11, 2019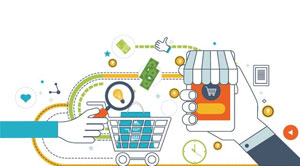 Enterprises aim to connect the physical world with the digital world to enhance the productivity, efficiency, and growth. In short, industries tend to benefit from Internet of Things (IoT), and it has transformed as one of the real success factors across sectors. Organizations globally are leveraging this technology and applying it to every possible industry. Given the enormous potentials of IoT, any company that doesn't act will fall. Examples of the four major sectors leveraging IoT are listed below:
1. The Retail Industry
This sector's potential revenue gets affected as stores are unable to satisfy the customer demand for specific products. The most affected are the fashion retailers as items are often left in the trial rooms or restored in the wrong place. But if the items will be equipped with the visibility technologies like mobile computers, staff would be able to locate products quickly and in real-time thereby improving the availability of articles on the sales floor. With these facilities, retailers can monitor the number of stock items stolen and also maximize revenue by ensuring inventory is up to date.
2. The Logistics Industry
Historically, trucks have not been utilized to maximum capacity resulting in significant inefficiencies. With the help of 3-D cameras, companies can now keep track of a variety of data about the loading process and gain valuable information on metrics like loading density, speed and employee's loading techniques. If the system detects any inefficiency in the process, it sends notifications to the dock manager who supervises it after that.
3. The Agriculture Industry
Farming businesses are implanting sensors in cows for vital information to improve animal care. These sensors are entirely safe and send location information to the receiver several times. This further assists the farmers to track individual animal whenever. This type of data provides farmers with valuable information including milking results, eating behavior or movement patterns. This high level of visibility enables farmers to respond quickly in a situation while ensuring seamless production processes.
4. The Healthcare Industry
Analyzing and sharing medical data can be challenging at times due to the involvement of many individual players like doctors, nurses, hospitals and insurance companies. IoT and data analysis can improve information gathering and processing in this sector to ensure better care for patients.
The mammoth data present if thoroughly analyzed, enables companies to comprehend their business processes more efficiently. It improves the planning procedure and helps to discover new sales opportunities. IoT solutions offer real-time visibility and foster innovative development that brings enterprises close to a brilliant connected future.