The APAC Digital Landscape Continues to Evolve
By CIOAdvisor Apac |
Thursday, August 29, 2019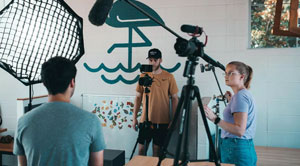 The Asia Pacific region has been witnessing constant changes in its video and broadcast sector, mostly in the form of technological advancements.
FREMONT, CA: The continually evolving digital landscape in the APAC region brings along complex challenges as well. There have been significant changes in the video and broadcasting sector as compared to the past. The current APAC region is home to more than half of the world's digital video viewers, which is about 1.3 billion.
Check This Out: Top APAC Companies
Broadcasters across the region are striving towards the adoption of new technologies as the speed of change continues to accelerate, and the scale turns more significant than ever before.
Also, about sixty-six percent of digital video followers are reliant on smartphones to watch videos. This has been another important aspect of the changing trends in the APAC region.
Further, as the bandwidth capabilities continue to expand, streaming is likely to become highly affordable and reachable for customers. This indirectly leads to rapid growth as far as video consumption is concerned.
The APAC region, marked by these trends, creates an equal mix of opportunities and challenges. As a result, a strategic approach is required to survive and move ahead in the constantly altering digital landscape prevailing in the APAC region.
Of late, there have been several strategic collaborations between leading players in the industry as a way to keep pace with the increasingly competitive technology landscape in the APAC region. These partnerships have been able to give more insights into workflow efficiencies, data visualization, analytics, and cloud infrastructure besides many others between the partnering companies.
Also, the need for leveraging monetization solutions is becoming more than evident for firms plying in the region. These solutions should be suitable across subscription, transactional business models, and advertising for maximizing potential across different audience types.
The APAC region is creating more growth opportunities concerning direct-to-customer businesses as well. There is more focus on connecting the right viewers to the most suitable content, empowering content discovery in order to facilitate brand engagement.
Few Top APAC Companies: BIPO Service, Bridge People Solutions, HCX Technology Partners, Inc., Ramco