The Crossroads of Blockchain and IoT
By CIOAdvisor Apac |
Friday, November 30, 2018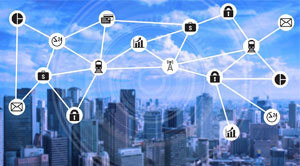 To transform and make lives easier, billions of enterprises that generate, process, and exchange critical data, as well as confidential information, reach out to the internet of things (IoT). However, the security- and integrity-deficient model of the IoT has made these enterprises take a step back. Add to that, the centralized security system used by enterprises struggling to meet the demands of the IoT, which brings blockchain in the picture. According to IDC's recent research, by 2019, 20 percent of all IoT deployments may have fundamental blockchain products and services enabled.
Blockchain with its decentralized security pattern distributes data-sets amongst multiple points across a network, which subsequently ensures zero interference with IoT's operations. In case, if one of the community units is hacked, no other device will be impacted. Furthermore, common challenges like cost barriers, server downtime, and the deficient architecture of IoT can be addressed with the blockchain technology. Assuring the exchange of critical information between two devices is secure, malicious acts are detected and prevented, and transactions are signed and verified cryptographically, blockchain enables the data to be saved on different devices so there is no single point of failure. Blockchain has the ability to surpass several other obstacles that stop IoT from advancement, as it provides transparency, scalability, standardization, privacy, and no potential risk of interruption.
Applications of blockchain-backed IoT can be implemented in industries like healthcare, supply chain management, education, agriculture, and public safety among others. The good news is that blockchain with integration to IoT is already in use in agriculture and the smart city space, however, there is more to come in the upcoming years.