The impact of automation on supply chain process
By CIOAdvisor Apac |
Friday, November 30, 2018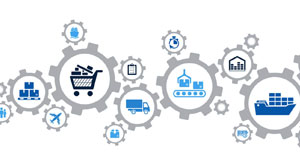 Supply chain management move in a process from supplier to manufacturer to wholesaler to retailer to consumer. Supply chain management brings together different types of processes and departments. Because of various interconnected entities and processes its difficult to manage supply chain management.
Organizations get inundated by the huge amount of information coming from suppliers and customers. And possibly human workforce is not enough in handling the processes quickly and error-free.
Automation is taking hold in possibly every sector of the economy. According to the study by Information Service Group, 72 percent of organizations will use Automation by 2019 to reduce costs or productivity improvement. Sensors, cameras, robots, cloud-based solutions are reducing the need for manual works.
As supply chain is dedicating time in bringing together countless processes, customer interactions don't get enough attention as they should have. Automated technology is able to work continuously in fulfilling orders, helping shippers, and reducing operational costs in the long run. The technologies support zero-defect logistic processes and new levels of productivity. The new generation of collaborative robots and automated solutions is improving performance and enhancing sensing capabilities along with offering a palpable alternative of manual handling.
Automation has been utilized in warehousing and fulfillment with collaborative robots which are equipped with high-resolution cameras and sensors. The robots have self-learning capabilities to assist workers with tasks as picking, packing and sorting. Robots consist of the fully automated trolley to follow pickers through the warehouse and take care of most of the physical work. They are able to move from single to multi-order picking with more efficient and ergonomic process.
Collaborative robots are deployed to cover changing peak seasons. They are able to cease activity if they touch anything unexpected. They are also deployed packing pet food, confectionary, aerosols, and canned drinks. They are able to do a range of repetitive tasks on a variety of products. Robots have the potential to be utilized through self-driving vehicles, automated guided vehicles (AGV) in warehouses which are able to move around products in an automated way without using large vehicles.
Companies are having advantages of workflow automation which provides unambiguous, hi-fidelity documentation of the full end-to-end processes. The progress of the processes can be seen anytime by anyone with authority and changes can be done if needed.
Digitized supply chain processes provide agile solutions in changing processes, tactics, and strategies as the transformation journey navigates. The manual processes are replaced by fully digital workflows which start by small and able to address the most critical areas at a time.