The Necessity of Agile Methodology in Business
By CIOAdvisor Apac |
Wednesday, August 14, 2019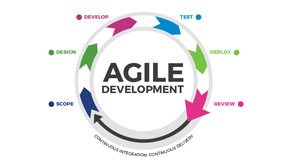 Business agility depicts the qualities that allow a company to respond and adapt quickly with the changing market and customer demands. Agile businesses are responsive and flexible and aren't slowed down by processes or conventional ways of working. It encompasses all components of an organization's design and management as strategies, processes, technologies, and infrastructures. Also, improves collaboration that leads to an approach of cutting out wasted effort and delivering quality over quantity with producing output the in less time. Agile methodologies are mostly originated from software development practices and share common features. Following are some of the ways of agile methodology that help organizations through continuous iteration and flexibility:
Responding to market dynamics: Traditional processes are rigid and inflexible those make it difficult for companies to change. Agile methods offer concurrent development, iteration, and adaption according to market demand.
Check out CIO Advisor's Top 10 APAC Agile Solution Companies - AGIVETTA CONSULTING, NuWorks, Synchroweb Technology,...
Collaboration and negotiation: Agility aids businesses with the collaboration that allows organizations of different entities in coming together and with negotiation that allows adjusting the changes. Businesses that work with the collaborative model see better implementation and outcomes.
Bringing Functionality in products: Projects and products that are developed through agile methodology have functionality before actual completion. The functionality improves them in a manner that syncs with market manners. Companies can make changes even midway to fulfill requirements.
Shorter time to market: Heavy documentation combined with multi-layered approach sometimes creates deadlocks in the procedures of project development. Agile methodology eliminates the need for documentation and brings a flexible workflow that ensures a shorter time to market.
Agile methods help medium and small businesses: One of the advantages small and large businesses have in comparison to the large ones that the ability to change quickly. Large organizations face difficulty to bring changes as they require more time and effort. Whereas, small and medium businesses find it easier to collaborate with software development companies and adopt agile processes to build products.
Agile methods aim to deliver according to the customer demands and adapt to markets. To make faster changes in products, service offerings, and business processes, companies should implement agile principles and approaches throughout their processes.