The Need for Marketers to Leverage AR/VR to Improve Brand Experience
By CIOAdvisor Apac |
Monday, November 25, 2019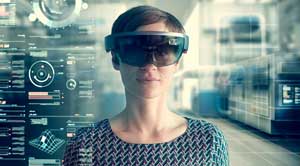 Mixed reality is taking its stride in modern B2B and B2C marketing efforts. 44 percent of the mid-tier marketing companies have already implemented the technology, observing an increased level of engagements while creating a new example for immersive brand interaction. According to ABI research, the market for VR and AR is growing steadily; it is predicted that VR in retail and marketing sector is anticipated to generate $1.8 billion in 2022. Mixed reality plays a predominant role alongside IoT, AI, and conversational voice interfaces. In the present customer experience (CX) revolution, marketers have identified that if they quickly adopt the evolving technologies, they can gain benefits from having a highly unique CX strategy.
Mixed reality isn't the only factor that is highly regarded in brand marketing. Savvy marketers will fully study how AR and VR can be directly tied up to sales and marketing efforts and survey different ways to enable ingenious, customer-focused use cases in current competitive marketing outlook. New resources and platforms help the marketers to implement these in their strategies without having to start from the bottom. The branding message and value propositions must align with AR and VR; this strategy must deliver the consumer useful information and improve engagement. Recently Houzz, a home renovation and design community incorporated AR in its mobile app to assist users in previewing and purchasing items for their virtual homes; the app provided hassle-free home design experience. This is an example of how the marketing approach directly aligns with consumer experience.
See Also: Top AR/VR Companies In Europe
A marketer must research how the mixed reality will impact the business goals and identify points where high impact is caused. Mixed reality must be used only in places where it is necessary; the whole marketing strategy mustn't rely solely on one feature. When strategizing a marketing plan, the marketer must consider technical accuracy and business knowledge which are crucial. When implementing VR or AR, the marketer must work closely with various departments to ensure that all the technical aspects are correctly integrated. Newer technologies must be explored and adopted in a fragmented approach where the piece will serve as a supplement to more significant marketing efforts that will boost ROI. Digital innovation will help marketers reach out to different audiences and provide a unique brand experience.