The Story of the Evolution of Artificial Intelligence
By CIOAdvisor Apac |
Wednesday, October 09, 2019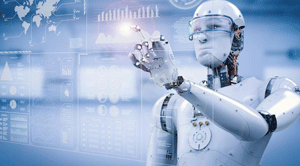 The intellectual roots of artificial intelligence (AI), and the concept of intelligent machines, dates back to the times of Greek mythology. Around the early 1950s, there was believed to be a generation of scientists, philosophers, and mathematicians, with an AI concept culturally assimilated within their minds.
The first workshop of Artificial Intelligence which was held during 1956 led to the birth of AI research. Researchers from Carnegie Mellon University (CMU), Massachusetts Institute of Technology (MIT) and employees from IBM founded the AI research. In the following years, they made colossal process, and almost everybody was very optimistic in the new technology.
Around 1974, U.S. and British government decided to cut of exploratory research in AI because of the sluggish developments. The following years were called (first) AI Winter, when the era of AI was believed to be a dream far apart, and nobody wanted to fund AI research.
Soon after the first AI Winter, the technology the technology reentered the market in the form of so-called expert systems which are programs that answer questions and solve problems in a specific domain. These systems were designed to emulate an expert in a particular branch and solve problems based on some basic rules and guidelines.
AI Winter period again challenged the industry around the late 80s and early 90s after a series of financial setbacks. Furthermore, the decreasing AI interest is fueled by the market failure of expert systems and hardware companies utilizing computers built by Apple and IBM. These black marks made on the technology reduced its publicity and investors moved away to other innovations.
In 2013, one of the world's foremost AI research DeepMind, brought into the market an AI solution which could play a couple of Atari games on top of a level of human players. It first seemed to be pretty cheap. The company used reinforcement learning and neural networks to let the AI self-learn these games. In 2015 they further introduced a smarter agent, who successfully played 49 classic Atari games. This was the real beginning of the evolution of AI.
In the last two decades, Artificial intelligence grew densely and made its way into every industry. The AI market reached around $8 billion in 2017, and according to the research firm IDC (International Data Corporation), the AI solutions market will reach over $47 billion by 2020.