Three Ways Augmented Reality Will Top Digital Marketing Trends
By CIOAdvisor Apac |
Friday, November 30, 2018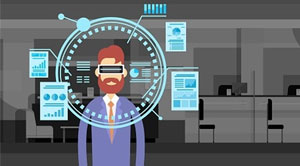 Augmented Reality is witnessing tremendous growth as it is molding the real-life environment and many real-world applications are enhancing our experience. All the leading businesses are opting AR strategy as it is becoming undeniably significant, as it attracts the customers and provides them with a composite view. As AR offers visual information over regular products, therefore the customers find it more engaging and informative.
• AR in Marketing
AR in marketing will aim to achieve increased brand recognition, increased client engagement and higher perceived value by upgrading brand awareness. The hype for your brand can only be created by providing a memorable experience to your customers through your applications. AR in marketing aims at customer's better online engagement and more shares and likes with the clients, leading to more exposure and increased brand awareness. An exciting advertising campaign powered by AR provide value to their clients and also attract media coverage.
• Increasing Client Engagement
Online shopping has become one of the preferred modes of purchase, but offline shopping has not lost its preference. Some people would still opt for offline purchases who aim at long-term investment such as furniture or getting renovations done as it is a more reliable form of shopping. Many companies like IKEA Place, an AR app displays how a selected furniture item would fit into the customer's residence and also provides a fun way of experimenting.
• Boosting Perceived Value
By using AR technology, organizations are presenting themselves as the innovative leaders of the industries. It leads the customers to prefer their respective brand as compared to the others available in the market. Brands realize the growing importance of AR in boosting the client's perception and are developing ways to integrate AR into their marketing and customer service mediums.