What Would Be An Ideal Approach In the Contemporary Asia-Pacific Logistics Sector?
By CIOAdvisor Apac |
Monday, September 16, 2019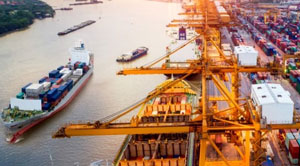 The Asia-Pacific region is currently undergoing a revolutionary change in terms of its logistics sector. The changed circumstances make it mandatory for a strategic approach for businesses and technology experts who are part of the industry to stay in the game.
FREMONT, CA: As the APAC region progresses to the epicenter of the current global supply chain transformation; there is a massive inflow of investments towards the development of new-gen logistics facilities. The main driving factor for the overall growth has been the ongoing growth in the e-commerce sector, especially in hugely populated countries, including China, and India.
The strong economies of countries in the region have also been a critical factor. Business leaders are getting themselves heavily involved in these trends and are leveraging them to enhance their efforts towards corporate transformation.
The Challenges
Amidst the favorable and highly supportive environment in the APAC logistics sector, enterprises and technology experts seem to realize the critical need to employ a time-specific approach. The reason behind this is the current development of APAC logistics sector as a potential hub of both opportunities and challenges.
Similar to the APAC, the global logistics sector is also experiencing specific challenges. A common aspect for the worldwide logistics sector is the constant pressure to deal with the increased digitalization requirements and consumer demands. This applies to the contemporary APAC region, as well.
Retaining their focus on the challenges and opportunities fails to be an easy task for established players in the logistics and transportation sector. Consumer demands continue to multiply, and tackling them requires modern approaches. As a result, long-standing Transport & Logistics (T&L) enterprises often end up facing transformational changes in their existing operations. This could be a long and tedious task and might even require a high-end technological upgrade.
The other factors contributing to the challenging times for the global logistics sector include the increasing competition from start-ups besides the asset-light players, the emergence of big online retailers, both as logistics operators and as customers. These trends also influence the APAC region to a considerable extent. The T&L enterprises belonging to APAC are reeling under pressure from mounting customer expectations, the ongoing shift to B2C besides the emergence of new, asset-light competitors.
Australia will be a perfect example in this context. New distribution centers continue to receive significant capital investment resulting in improved automation requirements and IT systems. However, simultaneously, it is putting pressure on the margins by leading to overcapacity and hitting the cash flow.
In rural areas in Australia, access to freight transport is more or less limited. One reason is that several rural regions are not on par with their metropolitan counterparts when it comes to advanced technologies in logistics. Coordination and communication can be challenging at times. However, this is not an indefinite challenge and takes effective communication, preparedness, route planning, and entire supply chain networks and enterprises. The situation in Australia, more or less, represents the overall scenario in the APAC Logistics. Opportunities are aplenty, and there are challenges that can be tackled by ensuring the APAC logistics becomes a key player in the global logistics industry.
What Approach Should Be Ideal?
Business leaders need to adopt a unique strategy in view of the altering scenario in APAC. Such a practice is already underway in many businesses. Quite a few entrepreneurs are aligning their strategies with altering consumer requirements, uncovering new income sources, and restructuring costs. The priorities vary in nature. For some, competing with rivals is the priority, and for others, a new business opportunity in logistics is the goal. However, the basic driving force behind all these advancements in logistics is the need to meet with increasing customer demands and technological advancement.
Most of the strategic trends that are rising across the APAC are part of the widespread effort to take the pressure off T&L enterprises on their operational business models to meet evolving customer requirements. For instance, the present-day technology-savvy consumers are highly demanding and prefer faster services. In response to this, machine learning and other AI tools are being made available in places like Jakarta and Bangkok in APAC to inform customers before the delivery reaches them.
What would also be part of the ideal approach towards the present-day logistics industry is investing more on innovative technologies and automation requirements to enhance productivity levels which can, in turn, fuel profitable growth. So far, APAC has been more or less slow in terms of technology adaptation when compared with big logistics names. The changing approach to incorporating technology is a promising factor in the current APAC region. We can take the example of Dynamic Routing Software.
Dynamic routing is different from commonly utilized static routing, wherein through a fixed sequence, plans are created well ahead of its proposed delivery time. Dynamic routing automatically creates and updates delivery time schedules, thereby empowering fleets to meet customer requirements. Many fleet operators in APAC have moved to this dynamic routing as a response towards customer needs. Dynamic routing has been successful in countries like the U.S.
The other requisite for an intelligent approach is to create innovative business models to unleash promising markets. This would require thinking beyond traditional ways of logistics to extend a particular enterprise's services to a totally different territory.
Adapting technology is what can assist T&L enterprises in their search for promising new markets. Drones, as an example, are significant in establishing the industry's presence in rural sectors wherein it is hard to carry out operations.
The current logistics consumers expect shorter delivery deadlines and also demand greater pricing transparency. Many consumers nowadays prefer to track deliveries in real-time. As a result, the software interface extended by logistics partners need to be high-end, and there should be a constant integration of GPS tracking, phone notifications, besides many other applications.