Why Cryptocurrencies are Considered the Future of Business Transactions
By CIOAdvisor Apac |
Monday, January 14, 2019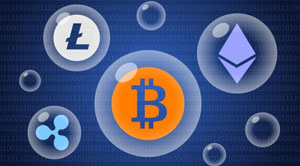 Cryptocurrencies are decentralized blocks of cryptographically protected codes that work independently without the command of any government or third-party entities. The cryptographical transactions take place between the users from a secure digital address without the involvement of any third-party entity. Cryptocurrencies have started garnering widespread interest across various industries.
The importance of cryptocurrency is still unexplored. The emergence of bitcoins, which is the first cryptocurrency, showed the potential of cryptocurrencies. It provided a globally accepted currency which required no authoritative middleman to function. Although bitcoins have a lot of shortcomings, it has set the standards for digital money in terms of acceptance. Cryptocurrencies can revolutionalize the process of buying and selling goods online. It can enable people to purchase products from any part of the world with reduced costs, secure measures, and without any bureaucratic hassles. Cryptocurrencies eliminate any middlemen from the transaction which ensures that there is no potential data breach or unnecessary waiting. Here is a detailed analysis of the benefits of cryptocurrencies:
No extra cost for currency conversions: Digital currencies are global currencies, and they have the same value across borders. Users of cryptocurrencies don't get charged extra for any international transaction as there is no need for currency conversions.
Straightforward business transactions: Businesses need hassle free and fast operations. The receiving parties in a business transaction have to wait a lot in international transactions. The fees for large transactions also remain the same. Cryptocurrencies only involve the parties who are responsible for the transaction, which makes the entire process quicker.
Security: Banks have suffered because of cyber thefts over the years. Banks are a prime target of cyber criminals and some of them have had success in breaching into a bank's system. Cryptocurrencies use blockchain technology, which is one of the most secure technologies available today. Blockchain technology doesn't contain breaking the codes system, which makes it tough for hackers to enter into a blockchain technology network without proper authorization.
There are no intermediary entities: Traditional currencies depend on banks and other financial institutions for any transaction. Users have to wait for bank authorization for any successful transaction. Banks also charge for authenticating any transaction. Cryptos, on the other hand, do not need intermediaries, and also there is no charge for transactions.