AI and ML to Aid Digital Marketing
By CIOAdvisor Apac |
Wednesday, May 08, 2019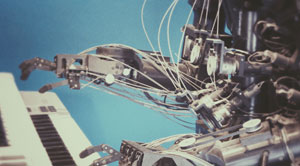 Every day appears to be a shift in digital marketing landscapes; indeed, every second. Every minute algorithms, principles, and methods evolve. AI takes the human role of identifying marketing trends through efficient data analysis and the ability to adjust to inputs. Brands and marketers make the most of AI digital marketing by automatic digital marketing services to save time and resources.
Digital marketing calls for the communication of the modern age that should be marked by progress, speed, and precise message transmission. So what else can make this next level of engagement with the audience easier than AI? Hence, today, chatbots are aged in terms of an effective tool of communication. At a time of flash flood in social media, chatbots are the future of interactive engagement. They will enable consumers to partake with marketers with regard to consumption of content, customer service, and transaction commitments.
As far as the highest possible email effort is concerned, AI and ML also benefit organizations. Marketers of all kinds use AI not only to customize campaigns according to preferences and past user behavior but also to automate things such as A/B testing. A/B testing takes time and may have a certain error margin. AI becomes, therefore, the best friend for every subscriber to personalize their email content.
Check out: Top Artificial Intelligence Companies
In addition to better understanding past user behavior, many marks use artificial intelligence, but also to use that information and strengthen it in the future. In general, if someone's behaviour is predicted based on things they did or show an interest in the past their future behavior also can be predicted. This allows marketers to easily eliminate those people who are unlikely to convert so that they can concentrate their attention on those profiles that are more quality guidelines.
Lastly, AI and machine learning are sufficiently sophisticated to aid marketers to design better websites focused on their past and existing customers' true experience. There are tools like Grid to essentially "tell" where to place images, text or calls for action on a landing page by using user-supplied data from various sources.
Finally, it must be understood that AI and ML do not "revolutionize" marketing in the context of human replacement. Rather, almost the contrary is true. Marketers can unload many menial tasks with playmaking abilities to these types of tools, which enable people to work smarter rather than harder.
Few Top Artificial Intelligence Companies (4R Systems, AI.io, Catchoom)