Aligning with the Healthcare Map of 2019
By CIOAdvisor Apac |
Wednesday, February 13, 2019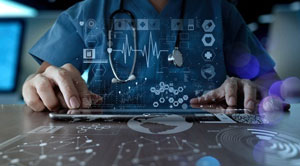 Mobile applications offer a plethora of services that many healthcare providers deliver. These applications have made earlier functions such as accessing test results, payment information, contact details, and making appointments seamless for the patients. These variables have fundamentally changed the relationship between healthcare providers, insurance companies, and patients. For healthcare providers, the number one priority is patient satisfaction. As a result, healthcare providers are now evaluating factors which affect patient satisfaction. Evolving nature of the stakeholders in the healthcare industry has given way several trends in the healthcare industry.
Telemedicine provides the patients with the ability to be treated by a doctor virtually. It offers multiple advantages to both patient and doctors; patients can get prescriptions and get medical advice and care without having to leave their house. Telemedicine provides doctors the perks such as caring for multiple patients more efficiently and working from home. Another advantage is in providing medical access to rural patients who may not have a doctor or specialist in their area to care for them.
Check out: Top Healthcare Technology Companies - Adherium, Ascensia Diabetes Care, Claydata,...
By using laptops and mobile devices, doctors can check the results of tests or see diagnoses from other doctors and specialists when determining how best to care for a patient. As smartphones reach every pocket, it has enabled doctors to easily communicate with their patients.
Adoption of wearable devices has given the doctors and nurses the ability to check the vitals remotely. Wearable devices have made it easier for patients to send data to their doctors in real-time. These devices can also help hospitals to reduce the responsibilities of healthcare staff, allowing them to focus on the core function-care, and help hospitals to deal with the staffing shortages in the hospital.
With more devices connected, the constant threat of cyber attack keeps looming in the minds of the healthcare providers. Healthcare providers need cybersecurity to keep personal data safe and secure so that their reputation doesn't jeopardize.
Integrated provider networks combine the latest user information and allow seamless access from a mobile phone. Mobile applications have made the patient experience easy, by providing test results, payment information, contact details, and making appointments through complete integration. Advanced technology systems have made medical treatment transparent. More information is at the disposal of the patients today, empowering them to select the place of medical treatment and what kind of treatments they can afford.
These trends will help the healthcare industry move forward with the digital technologies that have the potential to make a significant difference in the future of healthcare for patients and healthcare providers.