Digital Healthcare Opportunities for 2019
By CIOAdvisor Apac |
Thursday, March 21, 2019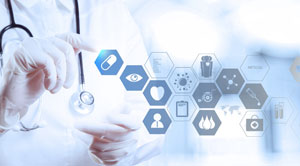 There are various internet connected medical devices which will help in tracking and recording fitness and health-related user data. Created with multiple built-in sensors like blood pressure monitors, ECG, and blood glucose monitors, these medical devices have a number of useful applications that can help to improve patients' health conditions. The data collected by such devices is further transferred to the mobile apps that monitor the health condition of the consumer and detect any abnormal activities if any.
Internet of Medical Things (IoMT) devices have played a significant role in handling chronic diseases such as hypertension, diabetes, and organ failure. With the help of precision devices that are fit to the patient, the health information is monitored continually, and it gives alerts if there is any variation or abnormal behavior in patients' health conditions.
Most times, there will be long delays in front of the hospitals, or it may take an entire day when visiting the doctor. Telemedicine allows avoiding this hassle of visiting the doctor's office by providing the option of a virtual consultation at home. This helps to save time and resources while improving scheduling. Even though telemedicine has been around for long, it has been brought to the forefront of healthcare technology after the introduction of wearable devices, video conferencing, and widespread use of smartphones. In the coming days, more advances in telemedicine are expected to help doctors and patients in several aspects.
It can today be seen that the healthcare sector is implementing gamification in fitness, medical training, and cognitive health. By means of challenges, rewards, badges, levels of mastery and competition, consumers can be engaged and motivated to achieve their goals that range from chronic disease supervision to tracking the time they have spent in exercise.
The AI incorporates health services, enables healthcare organizations to predict, prescribe, and automate business solutions based on evidence. Digitized healthcare solutions powered by AI are only in the early stages of technological adaptation. AI healthcare solutions are expected to gain more value in the coming days with more advances in machine learning technology.