Gamification at the workplace: Is it a reality or myth?
By CIOAdvisor Apac |
Tuesday, May 07, 2019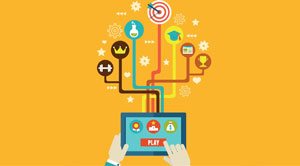 According to research, games engage an individual in different areas like cognitive, strategy thinking, coordination, and collaboration. Companies have used these findings for developing games for solving problems in areas of company processes and functions. With the explosion of mobile technology, companies have deployed tools to increase the productivity of employees.
Increasingly, HR managers are beginning to use gamification to assess a candidate's drive for innovation, their ability to solve problems and perform under pressure. Companies have used gamification to test aptitude which has ultimately helped the company recruit the right candidates.
Check out: Top Gamification Technology Companies
Most fortune 500 companies have deployed games for recruitment and brand awareness. Google Code Jam software-writing competition is a way to find fresh talent. Winners are given prizes up to $50,000. This platform help attract the right talent for the company. Plantsville by Siemens puts the player in the shoes of the plant manager. The player spends hours as a plant manager, and with real situations managers face. The game helps the player with familiarizing the processes in the plant. Another great example, Multipoly created by PwC which allows candidates to work in teams and solve real-world business problems.
Gamification is also used for employee engagement. Employee pulse checks survey. The questions reflect employee behavior and relationship with other employees. The study helps the manager to get real-time insights of the employees and their moods.
Learning and development the elixir for every education is an inoculation against disruption. Companies are taking this aspect seriously. For instance, Schneider Electric e-learning platform; the participants are ranked based on their overall performance on any of the critical areas they had select Courses, Videos, Quizzes, Ask an expert, Scoreboard, Leader Board & Expert answers. Participants are also rewarded with badges.
Employee well-being is an area where organizations are using gamification. For instance, Stepathlon race program participants are urged to complete a daily goal of 10,000 steps. Astonishingly, employees have taken the challenge seriously.
Gamification is still in its early stages and needs a lot of improvement concerning how it can be implemented. The company has to define the goals clearly, anticipate the outcomes, design games around the user experience, and have to pick up elements that are right for the team and correct for the function.
Key Gamification Companies: Glasir Games, Motivforce Marketing & Incentives, True Office Learning