Gearing SMEs with advanced big data analytics
By CIOAdvisor Apac |
Tuesday, May 14, 2019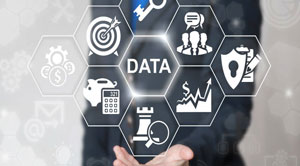 Organizations are integrating big data conceptualizations with the existing data management to scale up their business standards and productivity. As data is the fundamental business driver, handling large amounts of continuously generated complex and confidential data becomes a must-to-focus element for the businesses. Understanding the Big data's constructive impact on Small and Mid-sized Enterprises (SMEs), data scientists and engineers have developed a new set of potential big data solutions, which are tailored to overcome enterprise-level data-related issues. Here is its glimpse!
• Real-time processing and monitoring analytics
Advanced big data analytics offer real-time data management features, which help the business data analysts and managers to protect the integrity and authenticity of data. Online dashboards with instantaneous data reporting algorithms support insightful predictions of the user and process data and ways to mitigate them. Real-time analytics also create a channel for the professionals to understand opportunities and the underlying complications, and plan data strategies accordingly.
• Sophisticated data visualization
The latest development of practical data visualization tools in the field of big data analytics is enabling the SMEs to gain useful data visualization capabilities. These visualization strategies help the companies stay in tandem with every data flow, information exchange and other processes related to this instance. Visualization insights also help businesses to make logical and strategized decisions.
• Constant and frequent data evaluation and communication
Big data analytics makes way for regular data checks with the help of advanced collaboration tools and alerting systems. Providing options to evaluate data transactions, and monitor internal and external communications, data technologists support cluster-free data management practices.
To meet the ever-changing needs of small and mid-sized businesses big data analytics continues to evolve. SMEs find it highly beneficial to leverage high-tech data management solutions to gain momentum in the business world.