Healthcare and Big Data: Transformative Technologies to Deliver Better Care
By CIOAdvisor Apac |
Tuesday, February 05, 2019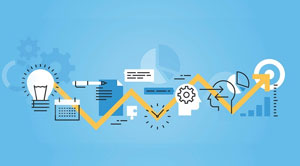 Technological advancements have become synonymous to daily life. They are providing appropriate solutions to generic problems, and in the healthcare sector, they are playing a vital role. For past few years, the healthcare industry is trying to cut short the expenditure. Proper and effective use of technology can help this sector to achieve this long-awaited goal of providing maximum service at a reasonable price.
Research of Frost & Sullivan's Visionary Healthcare has mentioned numerous technologies that might inculcate drastic change in the healthcare sector. Data management is essential for the betterment of the healthcare sector. This sector generates large data every day, but the problem lies in handling data. The proper analysis of a patient's data enables a faster and better service. Technology is becoming very important in assimilating and analyzing this massive data of patients. Healthcare service providers are relying on Electronic Health Records (EHR). EHR helps in immediate patient care by providing real-time information. But, within 2025, the amount of data will be increased on a massive scale and it will become impossible for the traditional computing system to organize data properly. The healthcare industry will have to shift to quantum computing.
Check Out CIOAdvisor's Top IoT Solution Providers - LX Group, PTC [NASDAQ: PTC], RenGlobe Tech Solutions,...
Use of technology will help in the growth of a preventive healthcare sector. It allows the hospitals to read patients' data about their past syndromes, lifestyle, habit, and diseases. The analysis of this vast database helps the hospitals to provide better care to patients by cutting short their expenditure. The use of AI has empowered the healthcare sector to deal with this massive amount of data easily.
The hospitals are using IoMT today. The use of connected medical devices has ushered in a new age. The healthcare sector has to address this growing popularity of connected medical devices properly. Except for clinical benefits, these devices also provide the opportunity to fix an appointment with the doctor.
The use of technology has changed the basic structure of the healthcare sector. But, the hospitals have to shift to the next level with the changing circumstances to stay one step ahead. They have to pay more attention to the use of robotics and have to move gradually to the use of nanorobots.