Leveraging Big Data for Secure Banking
By CIOAdvisor Apac |
Wednesday, November 13, 2019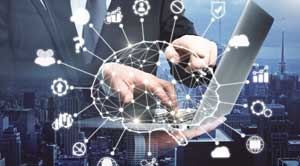 Banks have a lot of opportunities where big data can be utilized to help them to keep ahead in the competition. IDC, a technology research firm, reports that revenue for BDA solutions is expected to reach $27 billion by 2022, at a CAGR 15.1 percent for the forecast year 2017-2022. Keeping this in mind, banks are expected to make a lot of investments in the big data and business analytics in the coming year.
The big data analysts trust the fact that the investments made by banking, private manufacturing, and telecommunication industries have influenced the growth of the BDA market. Big data is undoubtedly on the radar of the banking world's leaders, and now they are battling to gain the ability to harness their data repositories.
Banks do have the accessibility to banking transactions, credit card history, and web and social interactions of customers. As a result, customers are known in details when it comes to an understanding their needs and wants their buying, spending, and repayment patterns. With the help of this data, banks can accelerate credit checks for faster applications for credit and loan, as well as offer individualized products and services that meet their needs.
Big data can also improve the cross-selling of their products by banks. For instance assume a customer takes a house loan and is the only employed person for the family, the bank could offer the right type of insurance in case of such circumstances to cover the home loan.
Banks usually know about customers' login credentials, each and every transaction details. They also have information about debit/card spends and thus are able to pay attention to all customers and offer them a secured banking experience by creating algorithms that can alert them for any fraudulent activities.
Hiring trained data analysts, organizations should invest more in training their big data employees to ensure high-quality data processing. This can be a win-win for both A company and its employees. As cyber threats have increased in recent years, it is necessary for organizations to give the maximum importance on safety and security at the data entry points.
See Also:
Top Big Data Solution Companies