Predictive Analytics in Next-Generation Insurance
By CIOAdvisor Apac |
Friday, November 30, 2018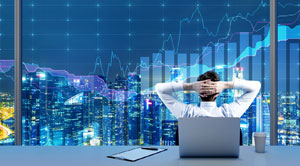 In recent years, real-time risk-management has become a crucial task, which enables insurance companies to emerge towards revolutionary approaches. Businesses can have up-to-date visibility of changing risks through real-time risk management and can counter-act to reduce risks. The question that remains is, "what makes real-time risk management possible?"
Real-time risk management is possible through streaming data in real-time analysis driven by AI. Many emerging technologies are generating new data streams which produce dynamic signals with high-risk content. Mobile phones are the main source, producing risk signals as wireless networks run them. Statistics of GSM association estimates that the world will witness 1.2 billion 5G connections, and 4G will reach 5 billion by 2025. Since mobile phones use wireless networks, it can power real-time data streaming. As many applications have emerged from AI and machine learning, processing large-scale data streams at much faster than ever is achieved.
Advanced AI, machine learning tools, and big data analytics are supporting the insurers to move towards predictive cover. Providing a financial incentive for consumers driving better practices may alter behavior, in turn, lower the risk for insurers. Driving performances are calculated based on a smart application called Aviva drive, which assess the driving style. By utilizing such techniques, insurers can better understand customer risks and uncertainties.
Previously, insurance premiums were executed and determined based on the availability of historical data. Actuaries collate and compare with the past data and frame the future outcomes. Emerging and available data sources provide continuous updates of underlying risks. Insurers need to define transparent analytical strategies to ensure that operating models attain business values with AI and that they invest in developing data and analytics capabilities. Emerging technologies have the power to address risks effectively in this digitally transformed world. Cloud, SaaS, and API enabled services to give the ability to connect not only within enterprises but the entire value chain in real time.