RPA Helps Flourish Business
By CIOAdvisor Apac |
Friday, November 30, 2018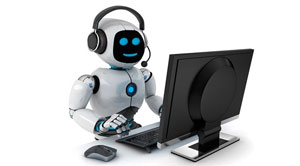 Most employees avoid tedious and mundane tasks on a regular basis, and as a result, they are prone to making mistakes at the workplace. Robotic Process Automation can perform repetitive tasks and that too with near-zero errors. Often bolstered with cognitive capabilities, RPA technology is less about replacing humans with bots, and more about letting the human workforce use its abilities and zeal to concentrate on activities that need intuition and creativity.
Owing to these feasibilities, RPA tools are expanding dramatically and will speed up in a short span of time. According to Forrester, an American Market Research Company, there will be over four million robots performing administrative, office, and sales tasks helping the market touch three billion dollars by 2021.
An upheaval has been created by RPA which makes implementing automation solutions as simple as making an online purchase. It suggests that employees in an organization can work alongside their co-workers to link any applications they are using with Excel, SAP, Oracle or any other local or web applications.
Bots are developed and tested by the same companies that build them. It allows organizations to enhance their automation projects at lower risks. Bot-store markets provide an opportunity for businesses at different phases of their digital transformation journey to incorporate RPA solutions into their organizational infrastructure. If a company desires to automate a process or an activity, it can adopt a bot store or search for pre-built bots that meet its needs, download them, and plug them into their business processes. Implementing RPA solutions is all about crafting or procuring a new bot rather than kick-starting a new project for the same purpose. This modus operandi indicates that the company can start with a small investment and then expand its use of RPA as faith builds amongst critical stakeholders.
RPA is being used in companies across a wide range of vertical sectors such as banking, manufacturing, retail, and telecommunication. In call centers, finance and HR departments, marketing, and executive boardrooms, RPAs are being used in innovative ways to make activities and processes more efficient, ushering improvements for companies and their customers. It gives staff the leverage to focus on tasks that demand their higher level skills and creativity.