Securing Data with Blockchain: Endless Possibilities
By CIOAdvisor Apac |
Friday, January 18, 2019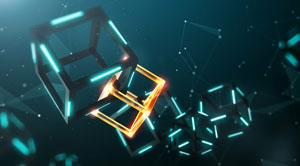 Since bitcoin first appeared in 2009, there have been a lot of speculations about the future of finances. While interest in the currency itself has fluctuated considerably as its value continues to rise and collapse, bitcoin's underlying database technology has steadily attracted interest from the world's biggest banks and investment companies. Like a huge booklet, the blockchain records and indexes every bitcoin movement, creating a searchable database for every transaction in the process. Unlike conventional digital books recording data on a central server, the blockchain stores transaction data across vast computer channels that constantly check and verify information.
It will be tedious to analyze and handle such large amounts of data. This is where blockchain comes into play. It helps add another protection layer to the process of big data analytics. Big data generated by blockchain is safer and more valuable thanks to the network architecture, making it an ideal match for further analysis. Blockchain promotes bitcoin, but it can lead to a certain great big data solutions.
Recently, unidentified hackers successfully compromised Bangladesh Bank's servers and stole $100 million, whereas, in the United Kingdom, Tesco Bank was specifically targeted by a cyber attack which resulted in some 20,000 current accounts being siphoned off. Due to the high level of confidence that consumers place in banks, such cybersecurity breaches can be devastating for hard-earned reputations.
Check Out This : Top 10 APAC Blockchain Solution Providers ( ECOMI, EdenChain, MC Payment )
By storing financial data through a computer network, it is much harder for hackers to access their data. Instead of breaking only one server, it is only possible to falsify the balance or make a fraudulent transaction on a blockchain if the majority of the network is damaged. Even the most successful cybercriminals can find it extremely difficult to hack a single server. It is practically impossible to compromise enough servers to falsify records on the blockchain, particularly since cybercriminals need to break each node concurrently.
The financial services industry is controlled by a mixture of inefficient legacy computer systems that are difficult to maintain. The blockchain opens up new ways of disrupting existing financial services and innovating new financial solutions for customers. Researches in the blockchain technology may be in its formative stages, but it is still clear that those who master it first will become the leaders in the expanding global financial services sector.