Smart factory is no more a science fiction!
By CIOAdvisor Apac |
Wednesday, May 01, 2019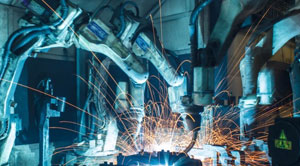 With the convolution of emerging technologies and the fourth industrial revolution, the world is dramatically transitioning towards the insightful, unmanned, and self-regulating digital era. Industry 4.0 has brought with it, vivid tools, process automation and tech innovations to transform the manufacturing industry. The latest technological explosion focuses on integrating various systems and software infrastructures to optimize the processing methodologies. Allowing the manufacturers to invest smartly and reap sustainable returns the manufacturing technological advancements provide ways to secure data sharing, improve social and professional collaboration, increase efficiency and fasten processes. This article describes the cutting-edge capabilities of manufacturing technology.
• Powering the science of connectivity with IIoT
Connecting the digital network of the industry with its physical devices, Industrial Internet of Things (IIoT) has been instrumental in changing the legacy systems and processes of the manufacturing industry. IIoT tools and equipment facilitate the managers to automate such that minimum or zero human intervention would drive the industrial operations and proceedings. IIoT also introduces the concept of predictive monitoring, which lets the manufacturer review and monitor processes remotely and proactively.
• Optimizing data mobility with cloud computing technology
Cloud-based platforms support various data-related features such as cyber secure data sharing, streamlined data storage, and retrieval mechanisms, ultra-fast information exchange methods, and more. Cloud technology plays a vital role in developing network infrastructure for storing and safeguarding the industry data by integrating the concepts of fog and edge computing. With this idea, manufacturers can ensure end-to-end data protection.
Check out: Top Cloud Companies
• Smartening the work culture with AI innovations
Robotic operational environments have been acutely transforming the legacy of the manufacturing industry. Artificial Intelligence (AI) helps the enterprises achieve functional fidelity by opening ways to reduce manual efforts to eliminate human errors. AI-powered collaborative robots, called cobots are employed to monitor the robot-driven operations.
The new revolution, Industry 4.0 is bombarding the manufacturing industry with many result-driven advanced developments and innovations, bringing the idea of smart factories to reality.
Few Top Cloud Companies (Blueport Commerce, Consensus, JDA Software)